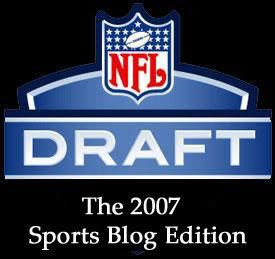 Awful Announcing has begun posting the results of the bloggers mock draft. As you know, TWFE was asked to make the Lions pick. On Friday night, this was the result...

With the second pick of the 2007 Sports Bloggers NFL Mock Draft, The Wayne Fontes Experience (as selected by long suffering Lions fan Big Al ) select...

JaMarcus Russell, quarterback from Louisiana Tech University. (Why I typed "Tech," I still don't know. As soon as I hit send, I realized the mistake. God damn typos! I caught a little bit of grief for that...)

I honestly thought that the Raiders would take Russell, so we are plenty happy in TWFE war room. The general consensus from commenters at TWFE was to take Calvin Johnson, Matt Millen's piss poor drafting history be damned. Matt Millen be damned, period.

Wisconsin tackle Joe Thomas was the only other player seriously considered. Brady Quinn? Detroiters think he's another Joey Blue Skies.

As the Lions have not had a Pro Bowl QB since 1972, and haven't had a QB that was actually great since 1957, the Lions have to take the possible franchise QB. At least Russell can sit for a year behind Jon Kitna, and learn from Mike Martz. But with the Lions luck, Russell will end up just another of their long line of first round QB busts, Chuck Long, Andre Ware, and Joey Harrington...

Dan Shanoff surprised me somewhat by taking Calvin Johnson with the number 1 pick. I thought he would go with a QB, but Dan decided to take the consensus best player available, regardless of position or need. With Russell still on the board, he was too intriguing a prospect to pass up at number 2. After my pick, I got a an email from Dan, bringing up the Lions' wide receiver fetish.

"Damn! Now I wish I took Russell -- if only to see the reaction when you take yet another WR! I'm intrigued your readers (presumably Lions fans) would be happy with CJ as the pick if he was there at No. 2. Although he IS a once-in-a-decade talent, previous Lions WR picks be damned."

I replied with my thoughts on taking Calvin Johnson, whom I would have been tempted to take if he were available.

"Honestly, I think if the Lions took Johnson, Millen would catch more grief from around the country than in Detroit. The Lions have so many holes, and lack so much depth, you can't blame them for taking the best overall player on the board, even if that player is a WR. The Lions went thru a revolving door at WR last season. It was so bad, Az-Akim actually played a significant amount of plays at one point...

There would be some grumbling if the pick was Johnson, or Russell for that matter, but there wouldn't be a revolt. Now if Millen took Brady Quinn with that pick, all Hell would break loose. "

So that was my part of the mock draft. I took the QB, Lions past history be damned.