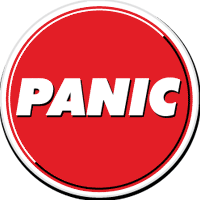 Our Detroit Tigers haven't even started the season, yet they suddenly find themselves short handed. Yes, it's what we all feared...Vance Wilson is on the DL. What are the Tigers going to do?!

Sure, losing Vance Wilson is a small blow, but a backup catcher is a backup catcher. He plays once a week, at best. I'm sure Mike Rabello will be fine in the short term.

In other news, some old guy went under the knife today. What's the big deal? That old guy is Kenny Rogers.

Tigers fans aren't sure what to make of the news in regard to the Gambler. Kenny Rogers had a blood clot removed from his shoulder today, and won't be back till July. That's best case. Worst case is that his career is over. OVER?!

"EVERYBODY PAN..."

Nope, I won't do it! Panic? Not in March, for chrissakes. Let's look at this logically...

First, I want to say that I'm thrilled that the Gambler is going to be OK, considering how life threatening a blood clot can be. Some people, as they say, will aways have Paris. Tigers fans will aways have the 2006 playoffs. No matter what happens from here on out, the Gambler will always be thought of fondly in the D. He bonded with Tigers fans, never more so than during the playoffs. In fact, Rogers never seemed happier as a ballplayer.



If the lasting memory we have of the Gambler is his walking off the field in triumph with 40,000 plus fans chanting "KENNY, KENNY" after each of his career defining 3 playoff and World Series victories, well, you can't ask for more than that...

But that's taking the worst case scenario. Rogers is a top flite athlete, and was in excellent health. If there is one veteran that can bounce back from something as this, it's Kenny Rogers.

Rogers will have plenty of time to regain his form, and be given every opportunity to take his spot in the rotation. He's earned that with his 2006 performance. On the plus side, He should come back in full heath, and well rested. It would almost be the equivalent to adding someone at the trade deadline. That's if the Tigers can, at the very least, tread water till the all star break.

For all the talk of the Tigers pitching depth, now is the time for them to prove that talk is more than just hyperbole. The list of candidates to step up is relatively long, and we've heard all the names. Chad Durbin, Wil Ledezma, Zach Miner, Jordan Tata, Jair Jurrjens, Kyle Sleeth, and Andrew Miller. Some are closer to being ready than others, but all undeniably have talent.

We already know that the Tigers are giving Durbin the first shot at stepping into the rotation. Honestly though, Miller is the closest there is to a sure thing. If Miller pitches well in the minors, I would not be surprised to see him brought up to Detroit by June. Especially if Durbin, Miner, et al, don't pitch well enough to keep a rotation spot.

So I'm not going to panic. It's much too early to get upset. Those young pitchers may just step up, and make the decision to put the Gambler back in the rotation a very tough one. For that matter, it's not as if the rest of the Tigers starting rotation is exactly chopped liver.

It was soothing to Tigers fans somewhat rattled nerves to see Justin Verlander's last spring training start to be his best so far. 5 innings, 2 hits, 0 runs, and 6 K's. I think he's ready.

If the Tigers staff is as good as it's supposed to be, the loss of Kenny Rogers will be more of a speedbump, rather than a roadblock, on the way to another AL pennant.