Gary Sheffield is now a Detroit Tiger. After hearing the cost of 3 minor league pitchers, I have to say the deal gets The Wayne Fontes Experience seal of approval!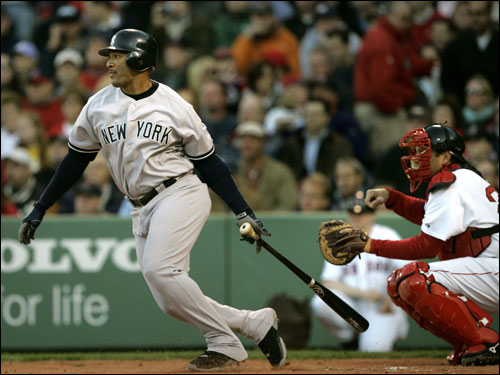 This is the trade you make when you are a team that wants, and has, to win now. This is territory the Tigers haven't tread in 20 years, and we best get used to it.

The Tigers, at least in the field, are not a young team. Core players such as Pudge, Ordonez, Guillen, and Polanco are all on the sweet side of 30, with not much in the minor league pipeline to replace them. Pitching is a different story, but other than Cameron Maybin, there isn't another can't miss position player in their system.

"Win now" has to become the Tigers fan mantra.

The time for the Tigers to hoard prospects, and hope that a few pan out, are officially over. The Tigers are an organization who have to live in the present and near future. As Tiger fans, we'd become used to the Tigers not being in the market for big time players, and worrying more about the distant future than the present. Remember, this was a team that was 3 wins shy of winning the World Series. That's a contender, not a team that hopes to be one.

Contenders make 3 for 1, dealing their prospects for a proven star, type of trades. Contenders have a window of opportunity that won't stay open indefinitely. The Tigers can't sit on their hands, or hope that they will find their all of their fixes via free agency. The AL Central division is too competitive for that.

The Tigers are a contender, and Sheffield makes them better. Now. In 2008. And they didn't touch the major league core.

It's not as if the Tigers had to break up their major league staff to get Sheffield. They gave up 3 minor leaguers, admittedly with, possibly considerable, upside. Thing is, it takes value to get value. Humberto Sanchez and Kevin Whelan, 2 of the pitchers the Tigers gave up, definitely have value. But they were still minor leaguers, and there's no guarantee that they will be productive big leaguers. Sanchez has never been able to stay healthy, Whelan is in the bullpen in Single A, and the other prospect, Anthony Clagget, I've never even heard of.

On the flip side, Gary Sheffield is a proven big time ballplayer. Hell, he's more than proven, he is feared as a hitter. that's something you can't say about anyone else in the Tigers current lineup. As long as Sheffield stays healthy, and there is no reason tho think that he won't, pencil him in for over 30 home runs, 110 RBI, .300 average, and an a higher OBP than most anyone on the roster other than Carlos Guillen. He automatically becomes the cleanup hitter. Sheffield will make Magglio Ordonez, and the rest of the batting order, better, just by his presence.

Do I have some reservations? Sure, how could you not? Every trade has risk. Sheffield has been known to be "Vocal" in the clubhouse when he's not happy. He is 38. Where in the field is he going to play? We all saw how bad Sheffield was at 1st in the playoffs. There's an awful lot of Comerica ground to cover if he plays a corner outfield position. The prospects may end up being good major leaguers.

In response... Sheffield has $13 million reasons per season extended over 3 seasons to be happy. Jim Leyland had to put his stamp of approval on the trade, and he has coached Sheffield in the past. If the Marlboro Man likes it, then I do as well. Leyland won a title with Sheffield, and Dave Dombrowski, for that matter, with the Marlins, so they have a good history together. He may be 38, but Sheffield has shown no signs of slowing down. Plug him in as the DH, and just let him rip. If he does play some outfield, he's no worse than Ordonez, and probably better. As for his injury this season, it wasn't due to any kind of physical breakdown, but due to a 1st base collision.

As for the players the Tigers gave up, you have to factor in the odds that a minor leaguer is much more likely to not pan out, than even sniff at stardom. It's not as if any of the pitchers were considered can't miss Justin Verlander - Andrew Miller types. They have potential, but not that kind of upside.

I'm thrilled that the Tigers are aggressive in addressing their needs. Even though the Tigers did win the pennant, their offensive needs are considerable. Obtaining Sheffield is a gamble, but I like the odds that the Tigers will be winners in the deal. Especially in the short term...

What's even better news is the impression we are getting from the Tigers that this is the start of their off season moves, and not the end.


Tags: