If you are looking for a breakdown on the ugliness that incompetent boob Matt Millen has brought upon us, you won't find it here, not today anyway. I'm done with breaking down the Lions' deficiencies, as what more is there ro be said? The Lions suck, and they suck hard. Nothing is going to change anytime soon. For more on the Lions suckage, check out what Ian and Eno have to say about the latest debacle, a 16-10 loss to the awful 49er's. I agree with both of their thoughts. What they have to say isn't pretty. But if you want some advice as how to survive what remains of another lousy Lions season, please read on.

I witnessed in person the Lions - 49er's display of something remotely resembling NFL football this past Sunday. The tickets were a birthday gift from the GF. We had a great time, in spite of the horrible football we witnessed. She treats this undeserving blogger quite well, by the way. I'm a lucky guy. But I digress...

As a public service to all of Lions fandom, I've developed 4 ways of coping with the neverending downward spiral that is Detroit Lions football. Feel free to take notes, as this may save your sanity as Marinelli, Martz, Henderson, Millen, and Ford run this once proud franchise into the ground.

1. Drink heavily.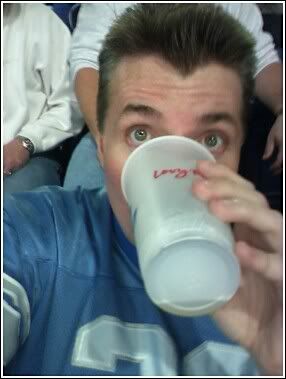 Unfortunately, this coping mechanism is a double edged sword. It dulls the pain that is a Jon Kitna turnover quite well. But it's the most expensive way with dealing with Lions suckitude. $8.25 a Labatt's is God damn expensive therapy. Let alone I had to walk halfway around the concourse as the upper deck end zone we were in was overrun with F'n Bud Lite. If I want to drink swill, I best be paying swill prices. Hell, at $8.25 a brew, I should be served tasty beer manna from heaven by nubile naked virgins, served in always chilled golden goblets. No such luck at Ford Field. Instead, it gets you watered down Bud in thin plastic cups, which forces you to guzzle it, lest it get piss warm. Piss warm swill, otherwise known as the Champagne of Lions football. The things we do to get through a game. Sure isn't pretty, or taste good...

2. The extra-curriculars can be more entertaining than the football.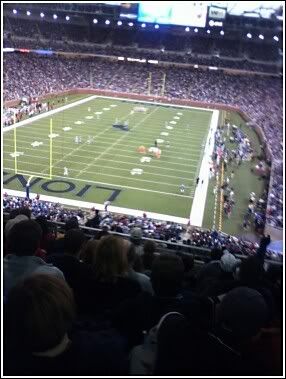 This just may have been the most exciting part of the game. No, it's not a Roy Williams dropped pass. Nor a Kevin Jones fumble. It isn't an Ernie Sims missed tackle or a Stanley Wilson dropped interception. It was the thrill a minute Tim Horton's Coffee vs. Bagel vs. Donut race. As shown by the distant action at the 25 yard line in the photo above, the race was a nailbiter, and the crowd was more into this than watching Jon Kitna throw another drive killing pick. The Donut showed impressive speed, and took the down the coffee and bagel with a final stretch kick. Considering the constant turnover at wide receiver, expect the Tim Horton's Donut as the number 3 wide out next week. Personally, I think it'd be worth Matt Millen looking into the availability of the Milwaukee Brewers' racing sausages, they may be the most fleet of foot foods around...

3. Show your displeasure with the disgusting display by our favorite NFL team. (Term used quite loosely)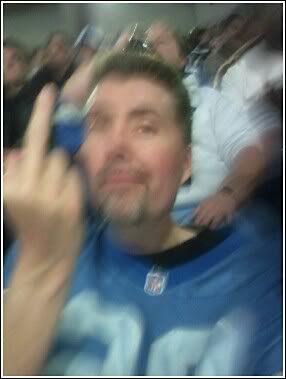 I wasn't the only one fed up with the whole cluster that was the 49er's loss. The GF, who had never attended a Lions game before, was quite amused with the collective level of bile shown by the Lions fans surrounding us. Many tried tip #1, with much success. Which lead to them using tip #3 with much profane gusto. Some tried to start "Fire Millen" chants, but were met with little enthusiasm. I saw more apathy from the fans than anything else. Others took their feelings out on the numerous San Francisco fans in attendance. Most were like myself, and just were fed up with the whole damn mess. We used the universal hand sign for utter disdain. The Detroit Lions, always #1 in my heart...

4. Shut down your emotions.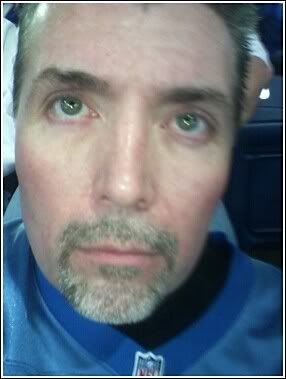 This was the look on my face after Kitna threw into triple (!) coverage on the final fruitess and futile drive. In fact, that's pretty much how I looked after every lions' miscue, and there were many. As you can see, that's not the look of a fan who cares deeply. Not anymore, anyway. I no longer feel the need to show rage or frustration. I used to. Didn't do anything but give me high blood pressure. So why should I bother? The results on the field doesn't seem to bother the best 2-7 football team in existence (As they continue to insist their delusional minds) , so I'm not going to let it bother me. Life is too damn short, even for this Dennis Hopper lookalike... (According to the significant)

Everyone, if you value your sanity, please take my advice. You'll live a longer and happier life while watching our unlovable losers, otherwise known as the Detroit Lions, bumble their way to a top 5 draft pick.


Tags: