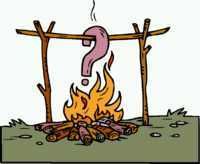 I know we don't want to talk about it, as the wounds are still too fresh, but the Tampa series was the breaking point for much, if not all of the Tigers' fanbase. The playoffs may be a pipe dream after the Tampa debacle.
The team is struggling, Leyland's pissed, the fans more so, they are closer to last place in the Central than first place and I'm actually looking forward to the Olympics taking my mind off of the Tigers.
In other words, it's time for another round of burning questions...
What the HELL happened in Tampa this past weekend?
If you are a fan of the Tigers, your worst nightmare, that's what.
That sound you heard? It was the Tigers playoff chances violently imploding. It was a weekend that only a lobotomy could wipe from your memory.
So you think the Tigers are out of the running for a playoff spot?
Mathematically, no. They'll remain in the Central race, at least when you look at the numbers, for quite some time. Realistically? My heart says "No." But my head says, in a much much MUCH louder voice, "No way in Hell."
Really? No way in Hell?
Let's see...
No lead is safe thanks to one of the worst bullpens in baseball. There's one, count 'em, one, trustworthy reliever, Bobby Seay. The "closer" couldn't close a door, let alone a game. The reliever the Tigers traded Pudge Rodriguez for has a home run fetish. The team's supposed ace flopped badly in his last 2 starts, while the number 5 man in the rotation has the worst numbers of any starter in baseball. The primary DH is hitting .230, while the starting catcher is at .221. The shortstop has the defensive range of a sumo wrestler. When the Tigers pitch, they don't hit. When they hit, they don't pitch. And much too often, they do neither.
In other words, no way in Hell.
But they're only 7 games back!
It's the first week of August, less than 2 months left in the season. 7 games is a steep climb for a team playing well, which the Tigers are not. They are a game under .500, and behind both the Twins and ChiSox. Both have better pitching. Pitching that won't make you cringe when you see them on the mound.
The Tigers have yet to show they are anything more than what they've been...A .500 team.
Jim Leyland called out his Tigers team yesterday to the assembled media, using words like ashamed, shocked. disappointed, terrible, and embarrassed. He also claimed the time for changes in the lineup were nigh. Then his team went out and gave away another winnable game. Will we see Leyland's "changes" Tuesday?
The better question would be, what changes
CAN
Leyland make? To be honest, not very many. Unfortunately, there doesn't appear to be a quick fix.
With the bullpen, I don't think Leyland has any choice but to try Seay as a closer. At least he throws strikes, which is something the rest of the pen finds almost impossible to do. Obviously Kyle Farnsworth is an option, but he hasn't impressed anyone in his 2 appearances so far. Fernando Rodney's status as not only a closer, but as a major league pitcher, is hanging by a thread. Either way, if he can no longer be depended upon, he has no business being on the team.
Nate Robertson may be at the end of what rope the Tigers have given him. Another rotten start, and he could be banished to the pen. But if you do remove Robertson from of the rotation, but who replaces him? There's no real standout ready in the minors. Chris Lambert? Eddie Bonine? Call me underwhelmed.
As for changes in the everyday lineup, about all Leyland can really do is play more of Ramon Santiago and Matt Joyce. And he's been playing Joyce almost every day since Marcus Thames' production plummeted (6 for his last 50). As for the .230 hitting Gary Sheffield, between his contract and Thames' slump, you might as well keep him in the lineup for the time being.
What a damn horrific mess this team has become.
Leyland also said during his rant, "I've got people on my butt." Is he under pressure from Dave Dombrowski and/or Mike Ilitch?
I'd be giving the red ass to anyone and everyone when it comes to this highly paid and under performing team.
If anyone has reason to want heads on a platter, it's Mike Ilitch. He placed his trust, and his wallet, in Dombrowski's and Leyland's hands, allowing the payroll to balloon to $138 million. What he's gotten in return is a team that can barely get past .500, let alone stay there.
Are there any positives?
Armando Galarraga has been a revelation. Magglio Ordonez remains an offensive weapon. Miguel Cabrera has been showing why the Tigers gave him such a fat contract. Placido Polanco and Curtis Granderson are having solid seasons after very slow starts. Bobby Seay has been solid. Matt Joyce has shown enough to be in the running to play left on a full-time basis in 2009. Same for Clete Thomas as the 4th outfielder.
Disappointments?
Far too many to mention. In fact, that's probably going to be another post.
Now what?
I honestly don't know. All I can say is the Tigers are not a fun team to watch. Not fun at all.