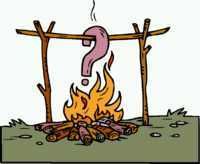 After a successful 4-2 west coast swing (one that could have been 6-0, save for a pair of Fernando Rodney 8th inning implosions), the Tigers are back home to finish off interleague play against St Louis and Colorado.

In winning 8 of their last 10, and 12 of their last 15, the Tigers find themselves only 3 games under .500, a mere 5 games back in the Central, and for all intents and purposes, back in the division race. My saying the season was over 2 weeks ago sure looks silly now, huh?

Let's answer some burning questions before the fire goes out, shall we?

Gary Sheffield is being recalled from his minor league rehab, even though he only went 2-13 during his minor league stint. Are you good, bad, or indifferent about Sheffield's return?

I'm good with this, with one large caveat. Sheffield's shoulder best be totally and unquestionably healthy. Otherwise it'll be just more of the same. I've seen enough of those weak ground balls to the left side of the infield.

When healthy, Sheffield is, by far, the Tigers' best option at DH.

What about The Hammer? Won't Sheffield's return take away at bats from Marcus Thames?

I don't see how it will. Thames has earned his playing time in left field, he's going nowhere. He'll be backed up by Clete Thomas and Ryan Raburn. Sheffield is strictly a DH, as it's been proven, time and again, he's too fragile to play in the field. Sheff is out of the outfield picture.

Thus, Thames' playing time should not be affected at all by Sheff's call up. If it is, Jim Leyland should be considered certifiable.

Why are you fine with Sheff's return? He was a black hole in the lineup!

Thanks to Sheffield's health (or should I say, lack thereof) and severe under performing from everyone else who has regularly played DH, the Tigers have gotten no production from the position. DH remained a black hole with Sheffield on the DL. Jeff Larish, who has gotten most of the DH AB's in Sheffield's absence, has struggled to hit .200, with an awful .273 OBP.

Even though he hit only .213, Sheffield managed to put up a decent .344 OBP. Even when he was not hitting, Sheffield's excellent eye still got him on base at a respectable clip. That alone will increase the production from the DH spot. If he's healthy, I'll bet the farm Sheffield's average won't remain in the low .200's.

(As I write this, it's just been announced the Jeff Larish era is, for the time being anyway, over. Sheffield has officially been activated, and Larish optioned to Toledo.)

So, what of Larish?

Larish showed flashes, but not often enough, as his .200 average attests. It's obvious he still needs seasoning.

More importantly, if Larish is to remain a prospect in the Tigers' system, he needs to switch positions. At the very least, he should learn another position, either right, left or 3rd base. Larish is NOT going to play 1st base on a regular basis for the Tigers, as he's blocked by Miguel Cabrera, and his $151 million contract. I'm confident in saying, barring injury, Larish will never play 1st on a full-time basis in Detroit.

If Larish continues to hit AAA pitching like he was before his cup o' coffee in Detroit, he's more valuable to the Tigers is as trade bait. He's a prime candidate to be included in a trade deadline deal to obtain pitching. (Yes, that means I think the Tigers will be buyers at the trade deadline.)

Fernando Rodney and Joel Zumaya are back in the bullpen, and the results have been mixed, at best. Rodney can't seem to throw a strike, and was the direct cause of the 2 losses on the west coast trip. Zumaya hasn't been a whole lot better. He's been unable to controll his curve, allowing hitters to sit on his fastball. Can the Tigers entrust late inning leads to either pitcher?

First off, I have to say...Thank God for Freddy Dolci. The kid has done nothing but impress after being thrust into the late inning set-up roll. Without his contributions, I shudder to think what the Tigers' record might be.

I won't call Rodney a lost cause, but his current ERA of 135.00 (!!!) has me wondering. That said, the Tigers cannot chance using him in late inning situations. Not till he fixes his control issues. Thanks to their awful start, the Tigers don't have much room for error, and can't afford running a question mark out to the mound as the 8th inning set-up man.

The question remains, can Rodney find his control? I have no idea, but until he does, it's mop up duty for the man with the once killer change up.

The bigger shame over Rodney's struggles is the Tigers may end up losing Denny Bautuista. There's just no room for him with the return of Rodney and Zumaya. Speaking of which...

I'm more bullish on Zumaya. Surprisingly, he hasn't lost any velocity on his fastball after the shoulder surgery. He's consistently in the high 90's, and occasionally touching 100, but big leaguers can hit a triple digit fastball when they know it's coming. I'm willing to give Zumaya a little more slack than Rodney, as you can't teach 100 MPH fastballs.

What made Zumaya so devestating was his knee-buckling breaking ball. Unfortunately, he hasn't had the command to be able to throw it for strikes.

It's also worth remembering Zumaya has barely pitched since 2006. After appearing in 62 regular season games in '06, he's played in only 30 since. In many ways, Zumaya remains a raw pitcher who needs to reign in his immense talent.

Once again, just as in '06 and '07, the Tigers seem to play their best against NL teams. Can the Tigers petition the commissioner to join the National League?

The Tigers sure seem to perform damn well whenever they play against NL teams, don't they? (Well, save for the pesky little aberration called the 2006 World Series) They just rampage through the NL like Sherman through Atlanta.

Can we ask the Brewers to come back to the NL, and have the Tigers take their place? Even if that means the Tigers have to play that awful NL style baseball. Wait a sec...

Then again, I think back to one of the Tigers' west coast games when the Giants had their number 3 hitter SACRIFICE BUNT (I believe it was Randy Winn) early in the game. I hate teams wasting an out anytime, but having your 3 hole hitter sacrifice bunt in the 4th/5th inning goes against all I hold dear and holy about baseball. It's insanity. NL ball drives me NUTS, and I'd have to watch it for 6 months?

As much as love the Tigers beating up on the NL, I also love the DH and 3 run home runs.
Thinking about the NL's strategy insanity brings me back to my senses, and has me appreciating the AL style of power baseball all the more.