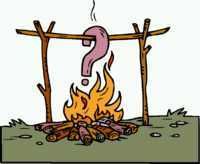 If you find yourself listening to sports talk radio today, the Tigers are a hot topic. (Even hotter than the clock clusterfuck that bent over the Magic against the victorious Pistons last night) Most of the host and caller angst is currently caused by the Gary Sheffield to left field situation. In fact, there's a moron afternoon host on WXYT-FM calling for the Tigers to buy out Sheffield's contract. Right now.

Panic much, Valenti?

He's not the only one, as the Freep's Michael Rosenberg is hinting yesterday's shakeup were the moves of a desperate team.

With fans and media alike going all emo, it seemed like a good time for more burning questions. Let's light a fire under my ass, and answer some questions!

Sheffield to left field. Long or short term solution? (If it's one at all)

I can understand why Jim Leyland decided Gary Sheffield was odds on the best solution in left field. With his shoulder issues, it's a short term solution, though. I can't see it lasting more than the season. I'd be surprised if it lasts till the All-Star game. It may take only one diving catch, running into the wall, colliding with someone, to send Sheffield back to the DL. Obviously, the Marlboro Man is willing to take the risk.

As much as some people would like to close the door on the Sheffield era, it's too early to call him done. He had the same excruciatingly slow start last season, with moron hosts calling his career over. Sheffield then proceeded to carry the Tigers offense for 3 months. I'm willing to give him the benefit of the doubt, for at least the next several weeks.

We aren't talking about an run of the mill, at best, player like Jacque Jones. (In his case, the Tigers were correct in bailing) We're talking about a Hall of Fame level athlete with a long track record of success. In my eyes, Sheffield has proven to be a marvelous baseball player when healthy. Let's give him little more time before rushing to judgment, and calling him done.

Why all the love for Brandon Inge?

You got me. Brandon Inge is NOT the solution to what ails the Tigers, no matter how good his 3rd base glove is supposed to be. He can't HIT.

This isn't the 60's or 70's, when a team could get by with a good field-no hit infielder. This isn't the National League, where you can get by with no pop at the bottom of the lineup.You need more than a .230 hitter on the corner of your infield. Inge did get off to a good start, as his high water mark was .306 as of 4/12. Fast forward to 3 weeks later...Inge is hitting .235 and dropping, with no power.

Inge is valuable to the Tigers...when he's coming off the bench to play all over the field, and as a late inning replacement. He'll be exposed for what he is, a .235 hitter who'll K like a power hitter without any of the power, playing every day at 3rd.

Why all the hate for Miguel Cabrera?

I'm having trouble wrapping my head around all the fans questioning Miguel Cabrera. I'm already hearing voices (No, not the ones in my head!) saying the long term deal was a mistake. Come on, EVERY TEAM in baseball would have done what the Tigers did. You do whatever it takes to get a player of Cabrera talent on your team, and you then sign him for as long a term as possible.

The whole situation was exacerbated by Leyland pulling the position switch between Cabrera and Carlos Guillen. Even though Cabrera was a 1st baseman waiting to happen, much sooner than later, and Guillen has played 3rd in the past, the position shuffle made everyone look worse than they were actually playing. The switch made perfect sense, but it reeked of panic. In the end, Cabrera has looked fine at 1st. Guillen, on the other hand...Let's tjust ave it for another post.

Even if he is scuffling somewhat, Cabrera still leads the team in HR's and is 2nd in RBI. I will agree he could be playing better, but Cabrera is adjusting to a new team and league. He still doesn't look comfortable at the plate. When Cabrera does find his comfort level, and his track record says he will, he'll be a force. A HUGE force.

How would I characterize the Tigers' struggles at start of the season in one sentence?

It's the starting pitching, stupid.