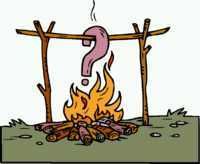 With the Tiger starting their road trip off gangbusters with a sweep of the Evil Empire, and ending the trip by getting broomed in 3 games at the Homerdome, it's time for another round of burning questions.

The biggest questions revolve around Jim Leyland's announcement of "drastic changes" in the everyday lineup. He won't say what those chances are, but as a card carrying blogger, I can't help but speculate.

Let's stoke the fires of knowledge, and answer us some questions...

The Tigers were swept by the Twins this weekend, after sweeping the Yankees. Does it mean anything?

It means bad things happen to good teams in that God damn Mickey Mouse stadium the Twins call home. I ALWAYS go into any Tigers road trip to the Homer/Baggie/Heftydome expecting the worst.

I'm rarely disappointed.

Sunday's loss was the latest in the Tigers' bizarre Metrodome history, flying out the gate to a 6-0 1st inning lead, only to lose 7-6.

The Twins hit one ball hard in the 7th inning, yet scored 4 runs. (Helped by a Carlos Guillen error keeping the inning alive) Balls that are an out in any other MLB stadium become run scoring hits on that green painted concrete they call a field.

They don't play "baseball" in the Metrodome. It's a bastardized arcade version of the game where ground balls you'd expect to be gobbled up scoot their way through the infield, often all the way to the outfield wall, or a grounder that hits in front of home bounces 25 feet in the air. A game at the Homer/Baggie/Heftydome resembles baseball in the same way "NBA Jam" resembled basketball...

After Saturday's loss, Jim Leyland announced there would be "drastic changes" in the Tigers' lineup, beginning Monday. What does the Marlboro Man have up his nicotine stained sleeve?

Speculation is rampant the changes will include the shuffling of a visibly struggling Gary Sheffield down in the order, and/or a change in left field. Honestly, between Sheffield and Jacque Jones, also struggling mightily, what else could it be? Both are hitting well under the Mendoza Line, (though Sheffield still has a respectable OBP), making them the obvious targets of Leyland's "drastic" lineup change.

At The Detroit Tigers Weblog, Biller ran an a very interesting batting order idea up the flagpole, saying Sheffield should become the leadoff man, while installing the .750+ slugging Curtis Granderson in the middle of the order. In my mind, and to Biller's credit, if you aren't going to bench or DL Sheffield, this makes quite a bit of sense. Even when he's not hitting, Sheffield still gets on base (as shown by his .340 OBP), and he's a marvelous baserunner. Granderson is a 100+ RBI, 3-4-5 hole hitting stud waiting to happen.

In fact, it makes so much sense, Leyland won't do it. Remember, this is a manager who likes to bat Pudge Rodriguez, and his awful .300 OBP, leadoff.

What other lineup ideas have been bandied about?

Earlier this week, we saw Lynn Henning of the Detroit News threw his hat into the lineup ring, with a convoluted scenario. Henning would have Sheffield become the everyday left fielder, thus benching Jones, move Brandon Inge back to his preferred position, 3rd base, and installing the increasingly immobile and stone handed Carlos Guillen as the full-time DH.

There's a few problems with Henning's mostly ludicrous proposal.

Sheffield can't get healthy, and is unlikely get/remain so playing in the field every day. I can't get out of my mind the fact this whole shoulder mess started because of his playing in left field. Sheffield to left would mean the Tigers would have given up on Jacque Jones, and it being only a month into the season, I don't see it happening...Yet.

Henning's proposal would also cause another roster shuffle, as the Tigers would not want Inge to both play 3rd full time while backing up at catcher. This leaves the Tigers little choice but to call up a catcher from either Toledo or Erie to back up Pudge Rodriguez. A catcher that's probably not close to being MLB ready.

OK, mister smartypants basement dwelling blogger, what do you think Leyland will do?

After going over several scenarios, I have a feeling Leyland's "drastic" is going to be not nearly as drastic (Sheffield moving down in the order) as fans would like.

We'll see a lineup much like Sunday's, with a middle of the order of Cabrera 3rd, Magglio Ordonez 4th, Guillen 5th. Sheffield remains the DH while moving down in the order to 6th or 7th, and Jones is benched for Raburn/Thames.

Not exactly drastic in the true sense of the word, but it is a needed change. Sheffield has become as much of a rally killer as Jones, leaving men on base by the dozens. Cabrera is the perfect number 3 hitter, and Guillen, who's been the Tigers most consistent player at the plate this season, will get even more RBI opportunities in his accustomed 5 spot.

As for Jones, the only thing that has kept him in the lineup most everyday is his batting from the left side, something the Tigers have long lacked. Actually, with Jones hitting Ramon Santiago's weight,it's something they still lack. I'd be willing to cut bait on Jones, and call it a failed experiment. An expensive failed experiment.

We'll find out soon enough what the Marlboro Man is planning. I'm planning on being underwhelmed.