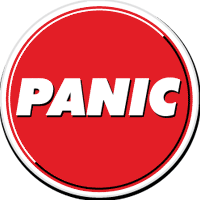 As I write this, the Tigers are well on their way to a 6th straight loss (It's over, the ChiSox win going away, 13-2).

In fact, Sunday's nationally televised game embarrassment may be the worst of the losses. Verlander had far from his best stuff, the bats are still swinging the way Matt Millen drafts (Badly, and without a clue), the bullpen not pouring gasoline on a White Sox rally, but preferring to use jet fuel instead, and Carlos Guillen apparently forgetting how to properly use a baseball glove.

Jesus HGD Christ, I think it's safe to say this was the worst loss of the season. (Never thought I'd be writing that less than a week into the 2008 season...)

As for the Tigers' season to this point? It's been ugly. Horrifically ugly. Embarrassingly ugly. Uglier than a Lindsey Lohan coke bender. But is it time to panic?

As pissed as I am by the Tigers' all around performance (Bad at bats, mental mistakes, a general malaise and questionable managing), and I was seeing red again tonight, it's only 6 games. It's not time to panic. The Tigers are a good team playing badly, not a bad team playing to expectations.

Miguel Cabrera didn't suddenly lose the ability to hit. Same for the likes Placido Polanco, Magglio Ordonez, Gary Sheffield or most any other Tiger you could name. Despite his slow start, Justin Verlander is still the same pitcher who won 35 games the past 2 seasons. Kenny Rogers, Nate Robertson and Jeremy Bonderman are all legitimate big league pitchers with proven track records. Talent is talent, and the Tigers have plenty.

This is still the same team we couldn't wait to see play a week ago. The same team that allowed us to dream of their winning a World Series. 6 terrible losses be damned, this is still the same good team.

But as much as I'm calling for calm, claiming "Small sample sizes" and "It's just 6 of 162," I'd be lying if I said wasn't concerned about a few things I've seen this week.

The bullpen has been awful. "Blows goats" is the term I'd use. Unfortunately, it may be an issue (To put it mildly) all season. From all accounts, Fernando Rodney isn't coming back anytime soon. We already know Joel Zumaya coming back st mid-season is more hope than reality. Currently, the pen is Todd Jones, Bobby Seay, and several pitchers I'm finding I just don't trust.

Thanks to injuries, and the absolute dearth of quality relief pitching available, the bullpen is made up of several "You better step up, and step up soon, or your ass will be in Toledo" types. Lopez, Bazardo, Grilli, Miner, Bautista, Beltran, they all need to do their jobs, or every one of them should be considered on notice, with a packed suitcase close by.

There's also Dontrelle Willis' disturbing inability to throw strikes. The velocity is there, but the strike zone isn't. As nice as the "Willis no-hit bid" headlines looked, they failed to mention the 7 (!) walks, which was the bigger story. With the pen in total disarray, the need for all 5 starters to pitch deeper into games is quickly becoming a must. Willis has to at least find a semblance of control, or...or...Well, there is no other option.

Which brings me to the cold, hard facts.

The team you see on the field is the team you are going to get the ENTIRE season. There isn't going to be any trades. The position players and the starting pitching you see now will be the same lineup you see 3 months from now. They are being paid too much money to expect otherwise.

The bullpen on the other hand...Well, I think we can expect the minor league shuttle firing up, and firing up soon. I suggest you start watching the waiver wire, as someone's bullpen trash may be the Tigers' bullpen treasure.

I do have a feeling we may see a Jim Leyland locker room blow up. But there's only so much the manager can do. Leyland calling players out needs to be done judiciously, or it quickly becomes nothing more, to what is essentially a room full of millionaires, than some cranky old guy's tiresome yelling.

Thing is, as much as some may believe changes are needed, teams don't make major changes in April. It just doesn't happen. Any trade that could make a difference, to make what you would consider a major deal, happens in the off season, or in July, when the trading deadline nears. So in regard to their current struggles, what can we seriously expect the Tigers' brain trust to do? The only thing they can do, wait it out.

The Tigers, the media , the fans, we'll all have to wait for the bats and arms to heat up. If you have a better suggestion, don't let me know, call the Tigers!

As of April 2008, the Tigers have what they have, period. We have to hope they pull out of this slump, and do it ASAP. Hopefully leaving Detroit for a week will allow the team to basically start the season all over. Let's all say this past week never happened, strike it from memory, and move on to much better things.

In the end, I'll admit I'm quite concerned, and God damn unhappy. But it's damn silly to panic, and start calling for sweeping changes. Because sweeping changes aren't going to happen.