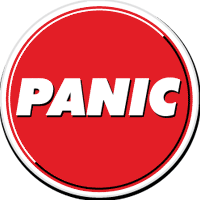 Is it time to push the panic button in Hockeytown? The Red Wings lost their 6th consecutive game Sunday, 1-0 to Dallas, wasting a stellar effort from Jimmy Howard in goal.

Freep commenter obrianm may not be ready to push the proverbial panic button. Not yet, anyway. But he does believe the Red Wings brain trust needs to do something, and do it soon.

Bottom line now is Holland needs to make a move. Tomas Kopecky is probably going to be the trade bait since he is still young and has a moveable contract. Lebda is also a posibility.

The real funk is the attitude of the team. Three weeks ago the Wings were finding ways to win; now they are finding ways to loose.

Too bad this was a great effort by Howard
First, every team goers through periods of listlessness. It's a much too long season, and the Red Wings are in the true dog days, biding time for the playoffs to start. Just because they are currently playing worse than the "Darkness with Harkness" era Red Wings, doesn't mean their attitude is bad. It means they are in a slump that's exacerbated by several crippling injuries. There's no need to worry, as the Wings are still a lock to win their division, and a near lock for the West number 1 playoff seed.
I agree the Wings aren't playing well, but it looks even worse thanks to their being severely undermanned. The Wings are down 2 of their top 4 d-men (Rafalski and Kronwall), their number 1 goalie (Hasek), and a gritty 2nd line scoring forward having the best season of his career (Cleary). How many teams in the Bettmanized, salary capped, depth challenged NHL could survive losing so many important pieces to injury? You can't name one.
Do the Red Wings need to make a trade deadline deal? I think so. Before the rash of injuries, we all knew the Red Wings could use 2nd/3rd line more scoring punch, and a big d-man. Those needs became a tad more glaring thanks to the sudden rash of injuries.
You only have so many chances to win a championship, the future be damned. I honestly believe the Red Wings are in such a position. If acquiring a scoring forward and/or a bruising blueliner means giving up some good young prospects and draft picks, then that's the cost of winning a Stanley Cup.
That's a cost most Wings fans are more than willing to pay.