It was reported Wednesday that our favorite dysfunctional franchise, the Detroit Lions, are no longer willing to deal with their talented, yet out of shape, often injured and underachieving defensive tackle, Shaun Rogers. The unconfirmed word from Allen Park is Rogers will be cut or traded before the April 2008 NFL draft.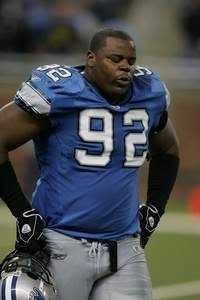 When asked for comment, Rogers replied,
"UHHH...UHHH...UHHH...hack...hack...
urrrgh... need...whew...UHHHH...need..
UHHH....need...UHHH...oxygen!"
With the rumors swirling around Rogers' status, it seems like a good time to being back a staple from the early days of TWFE, "pros and cons."
"Pro" are reasons to keep Rogers, "Con" is why he should be sent on his roly-poly way. Let's begin our exercise...
Pro:
He's undeniably talented.
Con:
He's undeniably fat.
Pro:
Rogers is under contract for the next 2 seasons.
Con:
Which means he'll play hard in 10 of the 32 games.
Pro:
The Lions will take a cap hit if Rogers is released.
Con:
The Lions have taken so many cap hits over the years, they already have them budgeted into their salary cap.
Pro:
Has made the Pro Bowl.
Con:
No one cares about the Pro Bowl.
Pro:
Rogers often attracts double teams, giving his linemates a chance to go one on one.
Con:
His linemates suck. The next time one takes advantage of Rogers being double teamed will be the first time.
Pro:
Rogers is the few Lions considered an impact player.
Con:
If you are talking about all you can eat restaurants, police reports and strip clubs.
Pro:
The Lions have too many roster holes as it is, why create another by letting Rogers go?
Con:
When you already have 21 holes to fill, what's one more?
Pro:
Rod Marinelli has claimed Rogers could be the "Next Warren Sapp."
Con:
Unfortunately the Sarge was referring to the Sapp who is 35 years old, a part time player, beat up, overweight, and now retired.
Pro:
Has a cool nickname, "Big Baby."
Con:
It should actually be "Bigger Baby." How about "Biggest Baby?" I know, "400 Pounds of Baby!"
Pro:
Rogers is one of the few players drafted during the Millen era that you could consider to be a good pick.
Con:
That's not saying much. When compared to massive busts like Joey Harrington, Mike Williams and Charles Rogers, any pick that manages to stay on the Lions' roster should be considered good.
Pro:
Rogers lead the Lions with 7 sacks!
Con:
He lead the Lions with
only
7 sacks.
Pro:
Rogers was playing despite sore knees, thus making him ineffective for the 2nd half of the season.
Con:
The best rehab for his injuries would be pushing himself away from the dinner table, which Rogers has shown he is unwilling to do.
Pro:
Rogers' is prime fodder for bloggers who like to make fat jokes.
Con:
I'd rather the Lions win games, than have an opportunity to make more Shaun Rogers fat jokes.