For some odd reason, the Freep is running old columns by the Little Fella of their website. I saw the following in my RSS reader...


EDITOR'S NOTE: On Aug. 4, 1985, Mitch Albom made his debut in the pages of the Detroit Free Press. Since then, of course, he has gone onto nationwide fame as a sports columnist and worldwide fame as an author. This is an Albom column that was originally published on Nov. 15, 1988. This is the first in a series of columns written by Albom that we will run on freep.com.
Uh...OK. But why? Am I missing something here? Is there an anniversary of some sort? Is the Freep trying to embarrass the Little Fella, by reminding everyone what a marvelous sports writer he was, once upon a time, long, long ago, in a Detroit that's far, far away?
I became even more conflicted when I read the column. It was actually good!
The Freep saw fit to reprint Albom's take on Wayne Fontes being named interim head coach of the Lions after Darryl
"What does a guy have to do to get fired around here"
Rogers was given the ziggy by a still somewhat lucid William Clay Ford.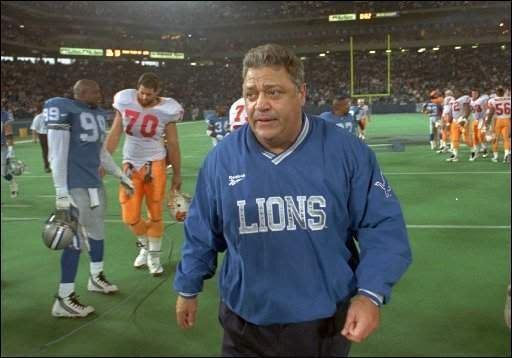 The Big Buck, circa 1988:
Where have you gone Wayne Fontes, our fanbase turns their lonely eyes to you...

Ah, the winningest coach in Lions history, Wayne Fontes, and the good old days of finishing 9-7 every other season! I'm getting all warm and fuzzy thinking about it. Wait..that might be my pain pills kicking in...
Mitch takes us back to those wild and crazy days of 1988, when some of you reading TWFE were still wearing diapers. Well, for all I know, some of you may still be wearing diapers. Don't be offended, I'm headed in the opposite direction, with Depends being in my future. But I digress. Back to the Little Fella...
The team was tied for the worst record in the NFL, and Rogers had so thoroughly lost any influence over his men that you could picture him blowing a whistle, turning blue, while the Lions carried on their conversations, carefree and oblivious.

So Ford made the change. He fired Rogers on Sunday night and moved up Fontes, a popular guy with a gritty style. Rogers still had another year and five games left on his contract. The Lions will be paying him through 1989.

They just won't have to listen to him anymore.
Boy, the more things change...New century, same old shit. Just change the names and the dates, and you'd be describing the Lions of the Millen era. Want more proof?
This is the picture the Lions painted of their departed coach: a strangely mild man who showed little emotion, had minimal offensive strategy, and distanced himself from any outside effort to influence the team -- even when it was clearly positive.
Mitch could have been writing about Steve Mariucci, rather than Darryl Rogers. I read on, as it all sounded so eerily familiar.
Then they barked. The offense was a joke, they said. And privately, they all knew what was coming.

"Is the firing a good move?" someone asked quarterback Eric Hipple, who, even injured, has always had the pulse of this team.

"Yeah," he said, "it is. The only surprise is that it happened at this point in the season, instead of waiting until the end."
The team bitching about a lame offense? It's not 1988, it's 2005! For that matter, it could have been 1962, Again, the more things change...
My God, Eric Hipple! Back in 1981 he had the most impressive debut of any QB in NFL history, doing so on Monday night Football to boot. Hipple was a one man wrecking crew against the Bears, accounting for
6 TD's
(4 passing, 2 running), and 300+ yards passing. (
The Roar Report
has a nice article about the legendary game) Unfortunately, Hipple was never that good again. Hell, no Lions QB has ever been that good, period. But once again, I digress...
Mitch continues, and talks to the patron saint of TWFE, the Big Buck, who says words that came to define the Lions franchise in the 90's...
But the future of Wayne Fontes, head coach with thick neck, does.

A chance to prove himself "I know this team better than anyone," said Fontes, in the banquet room of the Silverdome, wriggling in the unfamiliar grip of a suit and tie. "I know it better than Chuck Knox or Jerry Glanville or other coaches people may be talking about. And I'm here to prove it.

"I realize the arrangement right now is as an interim coach for the next five games only. . . . But I'm going to make it very hard for them to fire me."
"But I'm going to make it very hard for them to fire me."
Oh. My. God.
A haunting use of words by the players coach with the "thick neck," Wayne-O. Good Lord, if we had only known how true those words would be...
Mitch continues, showing a very witty turn of phrase, and comparing Wayne to a certain cartoon character. Good fucking Lord, the memories are flooding back...
And whether he'll be here five weeks or five years, the first difference you notice between The New Guy and the old guy is that when Fontes says something, you believe him. Rogers always had a little problem with the truth. He tended to ignore it.

Not Fontes. The son of a Portuguese steel mill worker who laughs like a foreman, looks a bit like Fred Flintstone and says things like "my way or the highway," he seems almost too down- to-earth for his new role. Far from being "presidential," Fontes actually began to choke up during his press conference Monday, moisture filling his eyes when he talked about this new opportunity.
Damn, Albom used to be
good.
What the Hell happened? Oh yeah, he started selling mediocre, sap filled, movie ready books to sensitive types by the truck load...
You have admit it the Little Fella nailed Fontes from the start. He was a blue collar coach for a blue collar town, who was more bluster than bite, more entertaining than effective. Who would never, ever leave.
And we'll see what happens. It may well be that the Lions should pursue a more experienced coach in the off-season. Revamp the whole program. Pay big money for big expertise.
"Revamp the whole program?"
Jesus, are we sure this column isn't from 2001? It just goes to show this generation of Lions fans that we've been living in a continuous loop of suck regarding our favorite NFL team. We fans have been calling for the blowing of the Lions up for decades. The media has been writing the same things about the Lions for decades. Worst of all, the Lions have been
The Lions
for decades.
I hope you enjoyed our look back at the Lions, and the Little Fella, of yore. As for yours truly? After reading this column, I'm suddenly feeling quite old. I'm going shopping for some Depends.