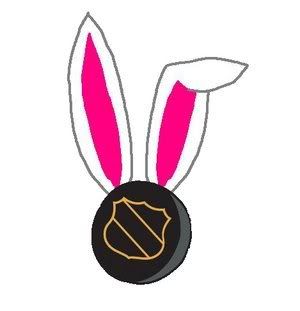 You could hear the orgasmic squeals of Red Wings puck bunny delight all around Detroit today, especially around unquestioned puck bunny central, the area Steve Perry called "South Detroit," in Journey's "Don't Stop Believin'," Downriver. Why are the big haired, tight jeaned, Draper/Maltby/Osgood sweater wearing puck bunnies in seventh heaven?

The Wings extended the contract, in puck bunny parlance, of the oh so cute, the just dreamy Ozzie!


Talks finally settled on a three-year extension, announced today by the team.

It's a smart move by both sides - (Chris) Osgood loves it here in Detroit (his wife is from the area, and they live here during the off-season) and for the Wings, this brings them security in goal through 2010-11.
Smart indeed. They've locked in Osgood long term, who's playing at an all-star, Vezina trophy winning, level. The Wings have also covered their asses in a few ways.
First, I'm sure this season will be the last in Detroit for the crazy ass Czech, Dominik Hasek. Osgood's the starter next season. Second, keeping Osgood gives long time prospect Jimmy Howard a safety net, and the ability to ease his way into the lineup over the next 2-3 years as the full-time net minder. (If he's capable, that question is still not answered) It's also good for the Wings' locker room, as Osgood is thrilled to stay in the D, doesn't matter if it's as a starter or backup. I'm sure he'll retire a Red Wing.
The love affair goes on for three more seasons. May God help us all.