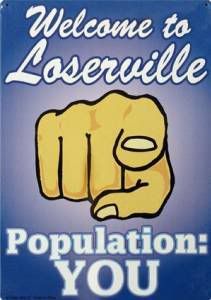 Despite their 1-6 record in the second half of the season, the Detroit Lions continue to write checks their asses can't cash...


For the Lions' defense, there's a chance to keep Packers running back Ryan Grant under 1,000 yards rushing — a major goal for the Packers' offensive line.

Grant took over as the Packers' top running back in the seventh game of the season, and needs 101 yards on Sunday to hit 1,000 for the season.



"We're definitely going to make sure it doesn't happen," linebacker Ernie Sims said. "We feel like it's all on our shoulders for him not to get that 1,000 yards. Whatever it takes, that's what we're going to have to do."
Is that a guarantee? From the tone of Sims' comments, it sure sounds like one.
Will the Lions EVER learn? I've never heard a team that talks such a big game, yet continually fails to back it up. Fails
miserably
...
The Lions have had big ass mouths for decades. From Jimmy Allen's
"Another One Bites the Dust,"
to Lomas Brown's guaranteeing a playoff win over the Eagles, to Roy Williams' claiming the offense will score 40 points a game, to Jon Kitna's
predicting a 10 wins season
, the Lions have made a habit of talking big. Too big for them to back up what's spewing out of their pie holes...
Now you can add Sims' boast to that sad list. The only thing I'd bet on stopping Grant from reaching 1000 yards against the Lions is the Packers taking him out of the game because it doesn't mean a damn thing. They are locked into their 2nd playoff seed, and have absolutely nothing to play for, other than personal accomplishments. Well, there's that, and beating the Lions for what feels like the 100th consecutive time at Lambeau Field.
When it comes to the Lions and their boasts, predictions, and guarantees, a certain Mark Twain quote comes to mind...
It's better to keep your mouth shut and appear stupid, than to open it and remove all doubt.
With the Lions, there is no doubt at all.