The 4 Letter and Kirk Herbstreit, who says Les Miles to Michigan is a done deal?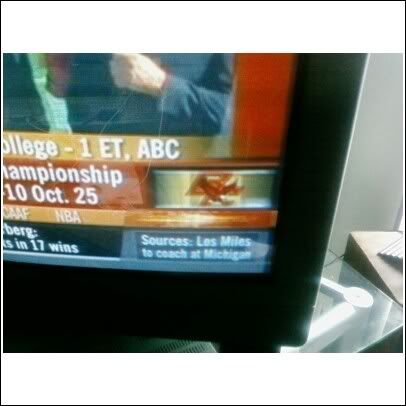 Or Jim Carty at the A2 News, who says Miles with withdraw his name from consideration, and will accept a contract extension at LSU?



If this is true, Michigan AD Bill Martin is going to have some massive damage control to do. Let alone find himself another candidate who will be now known as not to be the Wolverines first choice.

This is going to bear watching all day, to say the very least.

Update 12:45 pm: It's looking as if Carty is right, as NOLA.com is reporting the same thing, and LSU has a presser scheduled in an hour.


LSU football coach Les Miles is staying with the Tigers and not going to his alma mater, Michigan, LSU officials confirmed this afternoon.

The school has scheduled a press conference for 1:50 EST time today, hours before LSU kicks off in the Southeastern Conference championship game, to announce the new deal, according to people involved in the matter, and Miles has reportedly informed the team of his decision.
Say what you will about Miles, but he seemed to be the perfect fit for Michigan. A Bo disciple, but with a more aggressive approach to the game. But now? I'm at a loss.
I have absolutely no idea what Martin and Michigan are going to do. None whatsoever...
Who's next on the list? Schiano? Kelly? Ferentz?
Update 2:30 pm: I saw Miles' presser, if you can even call it a press conference, as he just had a short statement. From what I heard, he was damn careful with his wording. The always on the ball MGoblog
has the transcript
...
"There was misinformation on ESPN and I think it's imperative that I straighten it out. I'm the head coach at LSU, I will be the head coach at LSU, I have no interest in talking to anyone else. I have a championship game to play and I'm excited about the opportunity of my damn strong football team to play in it. And that's really all I'd like to say. It's unfortunate I had to address my team with this information this morning. With that being done, I think we'll be ready to play. There will be no questions for me; I represent me in this issue, please ask me after. I'm busy. Thank you very much, and have a great day."
Nothing about signing an extension, being contacted by Michigan, specific over staying or leaving, absolutely nothing at all. Just that he's "The head coach of LSU."
It sounded as if Miles is staying at LSU, but his wording sure was vague. Does that sound like a non-denial, denial? Is he out of the running altogether? Hell if I know.
The SEC Championship post game presser is going to be fascinating.