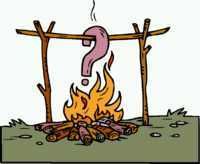 I was out of the house all day, but it being the Monday after another Lions loss, I had to make sure I made time to answer another round of Mike O'Hara's burning questions!

Topics covered include what the Lions can take from a close loss, the future of Kalimba Edwards, the weighty issue that is Shaun Rogers, missed opportunities in the red zone, and kick coverage. More specifically, the lack thereof...

Such scorching hot questions wait for no man, so let's get with the answering!

Burning questions after the Lions' 28-27 loss to the Cowboys at Ford Field on Sunday:

Q: The Lions said nothing good came from losing. Is that right?

O'Hara: Yes -- 100 percent. When the coaches review the tapes, they'll see some good plays and good effort, like they do in every game. But that's what players are supposed to do -- play hard and perform. The Lions played hard and performed, but they didn't perform well enough.

Big Al: Of course that's right. For too many years now, the fans and media would give the Lions credit for playing good teams close, for almost winning. The fact that they always come up short seems to be secondary. That's bullshit, a losers mentality.

I've seen plenty of fans say after the Dallas loss, in so many words, "Well, the Lions lost, but they nearly beat the best team in the NFC." Big fucking deal! They lost! The playoffs are out of reach! That's the only thing we should care about, not that the Lions played a good team, and nearly won the game. If you turn that around, you could say the Lions blew a game they should have won. Doesn't sound quite so good, does it?

That's what the Lions have done to us as fans. We've become happy losers, thrilled with mediocrity.

Q: There was one interesting personnel move. Defensive end Kalimba Edwards was put on the inactive list. What is his future with the Lions?

O'Hara: Three more weeks. That's it. Rod Marinelli made him a project last year, and Edwards hasn't responded. He has three sacks, but only one since the first game. There is almost no chance he will be back next year.

Big Al: Edwards is done as a Lion. Though that decision was made 2 years too late. Kalimba Edwards is just another in a long line of Matt Millen's high draft picks that turned out to be a bust.

He was a bust after his first 4 seasons, yet Millen compounded his error, in giving Edwards a 4 year, $20 million dollar contract extension. If you remember, he was given that deal because Rod Marinelli was going to coach him up, and turn his career around. What happened? In the 24 games Edwards has played since he signed that multi-million dollar deal, he has all of 6 sacks. Some coaching...

GM's have been fired for lesser blunders. Just not in Detroit.

Q : Nose tackle Shaun Rogers wasn't in the game when Marion Barber scored on a 1-yard run on the second play of the fourth quarter. What can be made of that?

O'Hara: Marinelli said it was just part of the rotation, but there has to be more to it. Rogers has not played well since his big game against Denver. That was five games ago.

It looks like Rogers has lost whatever stamina he had earlier in the season. There was a two-minute rest between quarters before Barber scored. Barber caught a short pass on first down, then ran for the TD on fourth-and-goal from the 1.

In that situation, with so much on the line, you want your franchise defensive linemen in the game -- not resting on the bench.

That was a not a good sign for Rogers' future in Detroit.

Big Al: I got to give props to the FOX broadcast, who continually cut to an exhausted looking Rogers on the sidelines, while the Lions defense was trying to stop, in vain, the Cowboys comeback. Rogers should be embarrassed that he was rightfully called out by Joe Buck and Troy Aikman throughout the game.

I remember Rogers' name being mentioned only once during the game, when he batted down a Romo pass in the 1st quarter. He was never a factor again. In fact, he hasn't been a factor in several games. It's a matter of fact, even though the Lions deny it, but Rogers' conditioning sucks. He's overweight, under-conditioned, and factoring in his production, because he's basically a part-time player at this point, overpaid

I went off on Rogers yesterday, so I really don't feel like rehashing the same old, same old. I'll just say that Shaun Rogers is running out of time in the D, for good reason.

Q: What should bother the Lions the most about the game?

O'Hara: If they had played that way against the Giants three games earlier, they'd have won. When they look back on the season, the 16-10 loss to the Giants will be the one that hurts the most.

Jon Kitna was right when he said after that game that the Lions beat themselves. They did. They lost to the Cowboys because the Cowboys were better playmakers. But the Lions gave the Giants game away.

Big Al: Sure, the Lions might have won 1 or 2 of the past 5 games, if they played as they did against the Cowboys. But they didn't. They never do.

Again, haven't we been saying the same thing about the Lions for DECADES? If, but, if, but. It's always "What might have been" when it comes to the Lions.

If ifs and buts were candy and nuts, we'd all have a Merry Christmas! And a few more Lions victories.

Q: What were the shortcomings against Dallas?

O'Hara: The two biggest are things that have hurt them all year -- scoring in the red zone, and coverage on special teams.

Big Al: The Lions were in the red zone 5 times. All they ended up with was 2 TD's and 2 field goals. That's not going to win you many games, especially against the NFC's best team. Unfortunately, it was to be expected.

The Lions have had red zone issues since Barry Sanders retired, and Herman Moore was released. The Lions have never been able to figure out how to get into the end zone since. The names have changed, but their inability to find the end zone hasn't.

The coverage teams have been a season long running joke. There's no other way to put it. The Lions have been sacrificing field position all season, so their issues against the Cowboys were nothing new. The fact that Marinelli did something about it, something extraordinary, in ordering Jason Hanson to pooch kick on kickoffs, and having Nick Harris punt the ball out of bounds, was the only difference. I said it yesterday, and it bears repeating, special teams coach Stan Kwan is a dead man walking.

Q: The Lions had first-and-goal at the 1 in the first quarter and settled for a field goal. Could they have done anything differently?

O'Hara: There's no quarrel with the first play -- a run by Kevin Jones. It was stopped for no gain. It's the next two plays that can be questioned. Both were passes to Sean McHugh. One was a little high, and he couldn't quite come up with it. It looked like he mistimed his jump a little. The second was too far out in front of him.

One of the reasons the Lions drafted Calvin Johnson, the 6-foot-5 rookie receiver, was to use him in the red zone. I'd have run Jones again, or thrown to Johnson at least once down there.

However, on another red-zone opportunity, Johnson couldn't grab a high throw when he was double-teamed. It's not automatic.

Big Al: Herman Moore made a great living off of the fade pattern. It earned Scott Mitchell some coin as well... You'd think the Lions would learn from their own history. When you have the 6'5" Calvin Johnson on the field, it's outright negligent to not throw the fade whenever the Lions are in scoring range. They were in the red zone 5 times. They only ran the play once. That's all on Mike Martz.

There's was nothing wrong with running that play action pass to McHugh, as he was wide open. That's all on Kitna for overthrowing him. But I agree, you shouldn't make him your first red zone option. Not when you have Kevin Jones, TJ Duckett, and Calvin Johnson.

You expect your best players to make plays, especially in the red zone. For some reason that only God knows, Martz refuses to use his playmakers when he needs them the most, near the end zone.

Q: What about kickoff coverage? Last week, the Vikings returned one for a touchdown. The Cowboys had a 60-yard return that led to a touchdown. What can be done about it now?

O'Hara: Not much. They've changed personnel. Resorting to blooping kicks is almost a surrender. On three more blooped kickoffs, the Cowboys got the ball at their 37, 35 and 44. Giving away field position beats giving away touchdowns.

Big Al: ALMOST a surrender? Please. Ordering the pooch kicks was waving the white fucking flag! Kick coverage has been a huge issue all season, and Marinelli had seen enough after the long kickoff return. The only thing he could do was take the coverage out the Lions' hands, by having Hanson pooch short kicks to the up men. He denied the Cowboys an opportunity for another long return by giving them good field position instead. Marinelli's remedy was almost as bad as the ailment...

Obviously, the Lions don't have the talent or the depth to use their bench players on kick coverage. They just haven't been effective. The only thing the Lions can do at this point of the season is to add some starting position players to special teams. I'm sure that's not something they want to do, but desperate times call for desperate measures.

The Lions are in desperation mode as it is, as they have to win out to have any chance at the wild card. So why not pull out all the stops, and use your best players on special teams? They have nothing to lose, other than a playoff spot...