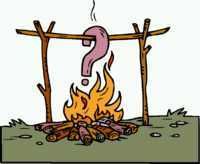 It's Monday, which means with another Lions loss, brings another round of Mike O'Hara's burning questions! There's plenty to discuss this week after the latest road loss debacle.

Topics include detailing, unit by unit, the team's issues, their chances of making a playoff run, how much is Marinelli to blame, Jon Kitna's hinting at locker room disharmony, and what happens next week against the NFC's best team, the Cowboys.

Let's get the nasty cornbread and Kool-aid taste out of our mouth, and answer some questions!

Burning questions from the Lions' 42-10 loss to the Minnesota Vikings at the Metrodome on Sunday:

Q: What's wrong with the Lions? They've lost four straight games and are skidding out of playoff contention.

O'Hara: The answer might be the worst one imaginable. There might not be anything wrong with them. The way they are playing now, they weren't as good as everyone thought when they were at 6-2, but they might be as bad as they've been in the losing streak.

Big Al: What's wrong? What isn't wrong? Everything is wrong. The offense can't score, the defense can't stop anyone, and the special teams are only special in that "He's special, so he rides the short bus" way.

We were all fooled by the Lions fast start. I know I was sucked in, with thoughts of a playoff appearance dancing in my head. We were blinded by those (Now looking fluky) 6 wins, and tended to gloss over the problems. Now that the Lions are playing better teams, they are getting exposed for what they are, frauds.

They just may be the team we originally thought they were...Bad. Real bad.

Q: Can they regroup to make a run in the last four games?

O'Hara: It's doubtful. By this time of the season, teams are what they are, and the Lions are struggling in all three areas.

Big Al: Have you seen the Lions' upcoming schedule? They'll be lucky to get one win, so I think regrouping is totally out of the question.

Why? Injuries are piling up, with Roy Williams possible season ending PCL strain being the latest, the O-line is regressing to the point where Jon Kitna is fearing for his life whenever he fades back, Mike Martz has torn every running play out of the playbook, Shaun Rogers has disappeared, and Kitna is insinuating that there is dissension in the locker room with his "Our boat is not very full" quote. It's obvious the Lions are falling apart.

It's safe to say the Lions are not going to make a Wayne Fontes (Bless that man!) style season ending playoff rush.

Q: Take it one unit at a time.

O'Hara: Start with the offense. It hit the wall a month ago. There's no rhythm to the passing game. One game it's Roy Williams who's the focus. The next week it's Calvin Johnson, the rookie. And it's almost never the running game.

The Lions are so awful and inept that they tried only seven runs against the Vikings. And it was probably seven too many. They had 1 yard until T.J. Duckett gained 22 on their last possession.

The defense thrived on turnovers. Now it's getting pushed around up front. The dynamic duo of defensive tackles Shaun Rogers and Cory Redding have pretty much been neutralized. The secondary has been exposed. It has trouble covering and tackling. That's a suicidal combination.

And special teams are especially horrible. Week after week, there's at least one big breakdown. There was a 103-yard kickoff return for a touchdown Sunday, just after the Lions cut the deficit to 14-10. That was a backbreaker.

Here's what Rod Marinelli said about the special teams: "It's been biting us, biting us, biting us."

Here's a suggestion: Call Chuck Priefer, the special-teams coordinator the previous 10 years, and ask his advice.

Big Al: Offense: No running game to speak of is putting undue pressure on Kitna to make big plays. The O-line may be the worst in the league, unable to make holes for the running game, or protect Kitna. For some ungodly reason, Martz would rather play Shawn McDonald than Calvin Johnson. Martz's playcalling is becoming more bizarre by the game half series snap.

Defense: Ernie Sims is good. Dewayne White was good before he got hurt. That's about the only positives you can come up with for the defense. Once they started playing decent competition, the D stopped causing turnovers. Shaun Rogers is still woefully out of shape, and is becoming less of a factor as the season goes on. His DT partner, Cory Redding, has no sacks. That BIG contract given to Redding is looking more and more like a massive mistake. As bad as the O-line may be, the defensive backfield may be even worse.

Special teams: I have no complaints with Jason Hanson, and Nick Harris. After that, it gets ugly. For years, special teams were one of the few areas where the Lions were in the NFL's upper class. That's no longer the case. The returners, Aveion Cason, and Troy Walters, are awful. They are no threat to take any kick to the house, as they aren't fast, and don't make tacklers miss. Watching them have trouble getting past the 20 makes you pine for the days of Eddie Drummond, Desmond Howard, and Mel Gray. You know, when the opposition feared the Lions retrun game. The coverage teams, to put it bluntly, can't cover. What more can you say?

Here's a suggestion: Special teams coach Stan Kwan should be looking for new employment after the season. Same goes for Mike Martz. It just isn't working. As for the D, we know Marinelli won't shitcan his defensive coordinator, otherwise known as his son-in-law, Joe Barry, so who knows what he has planned to fix the defense.

Q: Marinelli took the blame for the loss. Is it his fault?

O'Hara: Not entirely, but no head coach is blameless when a team is losing. Part of coaching is handling the staff, not just the players. It's amazing to me that in two years, Mike Martz hasn't put together any semblance of a running game.

It's hard to disagree with the basic strategy of passing against the Vikings because they have the league's best run defense. But part of that strategy was dictated by the reality that the Lions don't have a running game. Can anyone imagine the Vikings going into any game and saying they can't run the ball? It's absurd to have half an offense.

Sometimes players tune out a coach's message if it doesn't change. That could be happening with Marinelli's motto of "one snap at a time" if the players don't think it's working. Time will tell on that.

The bottom line is, one snap at a time, the Lions are breaking apart. And no matter what happens the rest of the year, you can bet there will be some dramatic roster changes for next year -- one bus ticket out of town at a time.

Big Al: I'm still waiting for the "Abandon ship! WHOMP WHOMP WHOMP" meltdown. To Marinelli's credit, he's held it together. So far..

Marinelli's the head coach, so of course he's going to take the brunt of the blame. He came to town with this "Coach 'em up" philosophy, talent be damned. Thing is, for all his preaching about fundamentals, we still see the same old Lions. Lack of effort, mistakes, dumb penalties, the sort of issues that come with teams that lack talent. to mix metaphors, you can't make a silk purse out of a sucky roster.

Hell, how many times over the years have we heard the "Bus ticket out of town" threat? Some players will be sent packing, such as Kalima Edwards and George Foster, and others should be, like Fernando Bryant and Damion Woody, but I'll have to actually see it, to believe it. Because we've heard it all before...

There's also the Mike Martz "Situation." He seems more concerned with his reputation as an passing game guru, than with developing an all round offense that can move the ball on both the ground, and the air, let alone score. Marinelli is either unwilling or unable to control his offensive coordinator, and it's hurting the team. Martz, and his calling 1 running play a quarter, needs to adapt his offense to the talent on hand.

What should Marinelli do? He should use the the greatest monologue in movie history, Blake's in "Glengarry Glen Ross... " (With a few small changes)

Marinelli to Martz: You got talent. Ford paid good money. Get the plays to work for them. You can't win with the players you're given, you can't close shit, you are shit, hit the bricks pal, and beat it, 'cause you are going out.

(Why Alec Baldwin didn't win an Oscar for those riveting 10 minutes, I'll never know...)

Q: Jon Kitna made some pointed comments after the game. Here's what he said: "Our boat's not very full. We don't have a lot of people left in our boat." What does that mean?

O'Hara: He didn't name any players, but his implication is clear that there are players who aren't buying into the system. Kitna was asked specifically if he meant that there are players who aren't rowing in the same direction.

"No question," was his answer.

Big Al: To me, that sounds like the one thing a coach doesn't want to hear, that his players are tuning him out. Marinelli's "Every snap" mantra is now falling on deaf ears. That does not bode well for the rest of the season. Lose a couple more games, and who knows what locker room anarchy we may witness. It's not as if the Lions have been known for their locker room harmony.

We were told that Marinelli had cleansed the roster of bad attitudes. He may have been mistaken. Losing brings out the worst in a team, and with the possibility of an 0-8 finish staring them in the face, it could get ugly. May the finger pointing ensue!

Q: What does the future hold for the Lions?

O'Hara: With Dallas coming to town Sunday, their ship is sinking. Never has a 6-6 record looked more disappointing for this franchise.

Big Al: The ship is sinking?! Maybe I spoke too soon, and we will get the "Abandon ship! WHOMP WHOMP WHOMP" meltdown after all!

As for the future, it's going to be a nasty time at Ford Field Sunday. The crown is going to be in an ugly mood, expecting the worst. We'll see an embarrassingly bad loss to the Cowboys, they'll fall totally out of contention for the wold card, and then we'll more excuses from Marinelli.

I expect to hear the following in the next round of Rod Marinelli catch phrase bingo: "Coach 'em up," "Teach," "Work on fundamentals," "Watch the film," "Held accountable," "Pound the rock," and he'll also "Take the blame," as "It's on me."

I'd expect nothing less from the Sarge...BINGO!