The Tigers long search for a left hand hitting corner outfielder finally came to an end this afternoon. Detroit acquired outfielder Jacque Jones from the Chicago Cubs for little used utility man Omar Infante.

Much like TBHoS, I'm sure Cubs fans are glad happy thrilled Jones is gone, as his 2007 was nothing to write home about. Tigers fans are OK with Jones as the left handed part of a left field platoon with either Marcus Thames and/or Ryan Raburn.

There is concern over Jones' perceived role, after reading what Jon Paul Morosi writes in the Freep after talking to the Marlboro Man. (Bold is my emphasis)


Jones, a left-handed hitter,

will likely become Detroit's primary leftfielder

, although the right-handed Marcus Thames will earn some starts there, as well.

"I'll play that by ear," Tigers manager Jim Leyland said during a telephone interview Monday afternoon, when asked if he envisioned a platoon between Jones and Thames. "We face so many right-handers that Jacque is going to play a lot, but I can't forget about Marcus."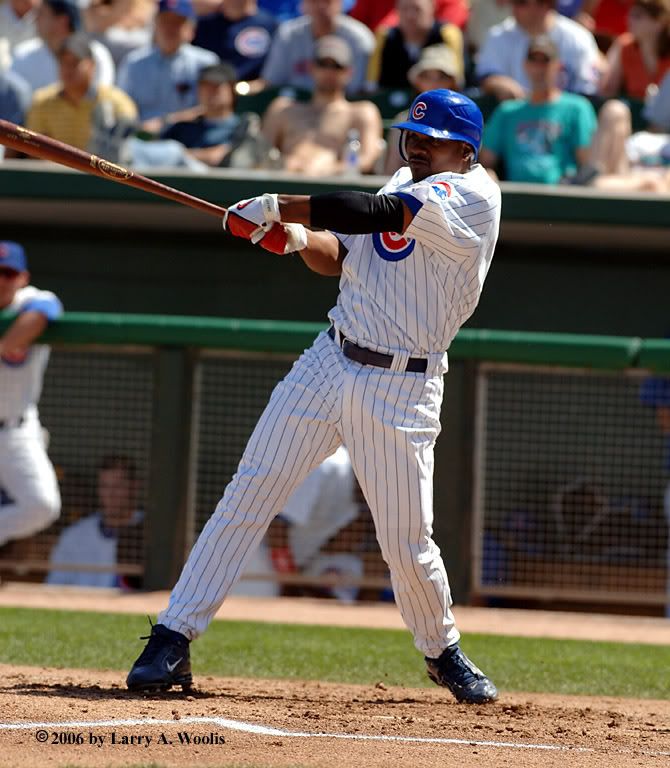 I'm not exactly sure what to make of Leyland not committing to a left field platoon. Jones only hit
5 home runs
in 2007, not exactly the sort of power you expect from a corner outfielder. Was it just an aberration, as he hit 20+ home runs in 4 of the 5 seasons previous, or the start of a decline? It could be Craig Monroe all over again.
I'm not sure I want to hand over left field exclusively to Jones, when you have 30 home run pop sitting on the bench in Thames, and untapped potential in Raburn, who did nothing but hit after his August call up.
Considering Jones has only 1 year left on his contract, can spell Curtis Granderson in center when needed, and had several decent seasons before a down 2007, I'm fine with the Tigers picking him up as a 1 season stop gap. Jones takes Monroe's role as a place holder for Cameron Maybin.
The Tigers aren't really losing much in Infante, as he never could replicate his solid 2004 season. He won't be missed, as the Tigers already have Infante's replacement on the roster in Raburn. Infante was never going to get any significant playing time with All-Star middle infielders playing in front of him, and never hit well enough coming off the bench. Infante needs the proverbial change of scenery, and might be more suited for the National League, as he can play most any position.
Jacque Jones for Omar Infante is far from being the high risk/high reward deal that was the Gorkys Hernandez and Jair Jurrjens for
Edgar Renteria trade
. It's a trade with acceptably low risk. Jones fills a definite need, and is playing for his next contract, while the price was an expendable utility player.
Now that the lineup is pretty much set, I have only one thing to say to the Tigers. Go get some damn pitching!