The Lions' season is saved! Mr. Irrelevant, the last pick in the last round of the NFL draft, Lions practice squadder, Ramzee Robinson, for the second time this season, has been promoted to the 53 man roster!

Ramzee will be the glue that hold the Lions' defensive backfield together! I feel soooo much better about the Lions' playoff chances now! YES! Playoffs, here we come! I just FEEEEEL it!

Matt Millen, you are a personnel SUPER GENIUS! Mel Kiper has nothing on you! Finding a 7th round diamond in the rough is...is...Well, it was...Hell, I'll just tell it as it is, Millen was damn lucky.

Of course, there is the fact that one time starting cornerback Stanley Wilson is now out for the season, as he was placed on IR this afternoon, weakens an already bad secondary. That's the only reason for Ramzee's promotion, the Lions needed a healthy defensive back. Otherwise he'd still be hanging on to his NFL dream by a thin practice squad string. And yes, I'm aware that the Robinson was active for a game a month ago, and didn't do a damn thing.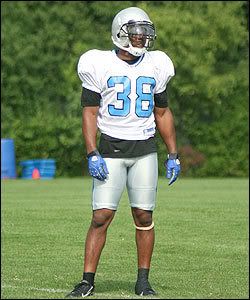 I tried to find an action shot of Ramzee as a Lion,
but the closest I could find was him just sort of standing around.
That says it all.


And...To be honest, Ramzee isn't all that good. He was cut at the end of training camp. No other team was interested, so the Lions figured waste not, want not, in regard to a draft pick, and added him to the practice squad. Robinson is the 53rd man on the roster, and the odds are he'll only play on special teams. If he sees significant time in the defensive backfield Sunday, the Lions are screwed. Totally. Even if he's playing against the worst QB in the NFL, Minny's Tavaris Jackson.
And we all know Millen is as much of a super genius as Rob Parker.
Ah, Hell. This is a nothing move for a struggling team...
I think I let my dreams of a Detroit Lions playoff berth get the best of me. Why don't we just forget this post ever happened, OK?