Don't you just hate the bye week? It's cool watching the rest of the NFL, but it just doesn't feel like a fall Sunday if the Lions aren't pissing off all of SE Michigan.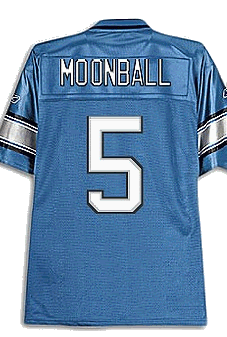 Will the ancient Garcia tear up his former team, as other QB luminaries Joey Harrington and Rodney Peete did, leading the Bucs to victory? Or will "Moonball" Garcia make a reappearance? Remember, or should I say, how could you forget, throws like
this
?
We can only hope that the Lions continue to surprise, win another key game, and keep pace with the NFC North leading, and on their bye week, Green Bay Favres. On with the live blog...
We're watching live from the D, with Fox 5th string announcing team Ron Pitts and Tony Boselli.
Why are they 5th string? Becauses of things like Boselli just calling Wayne Fontes "The great Lions coach!"
The Bucs receive, and start the game with a false start! Very Lion-esque, I must say. The Bucs get 14 on a 1st down run, and on a 2nd and short pass, Garcia finds Clayton just over the 50!
Oooo, Clayton takes an awkward hit, bending his leg in a manner not conducive to a long NFL career. Personally, it looked like a cheap shot from the Lions, as his knee was down. Then much shoving and yelling ensue, not leading to much of anything...
On 2nd down, just over the Lions 50, Garcia is sacked! BALL!
ARRRGHH! Redding had the ball cradled, but just like a lineman, couldn't hold on during the pileup...Bucs recover, 28 yard loss! Wild start folks!
Not so fast, it's red flag from Chucky, claiming Moonball Garcia was in a throwing motion when he lost the ball, hoping for a tuck rule call. Challenge time!
Ugh, Chucky gets the benefit of the doubt, incomplete pass. Odd decision, as Boselli says, Moonball's arm was going backwards...Damn. 3rd down...
And it's DeWayne White with the sack! That's the first time I've heard his name in several weeks, a good first series for the Lions D-line.
4th down....Smith through clean, and blocks the punt!!!
Lions give the ball to Kevin Jones...3 consecutive times? Where's Mike Martz, and who's taking his place? Whatever, the 3 carries are good for 22 yards. The 4th carry is stuffed, 3rd and 5 from the Bucs 16.
Kitna is rushed hard, it looks like he loses the ball on a pump fake....Incomplete pass? No whistle, the play continues, Kitna tries to grab the ball, is hit by a Buc...And it's returned for a Bucs TD? 6-0 Bucs? What in the living Hell just happened?
What the fuck? Replays confirm what the naked eye saw, it was an incomplete pass. There best be a challenge, as this was a more legit incompletion than Garcia's!
There's the red flag from Marinelli! He's got to get this call, it was a blatant incompletion off of a pump fake. Here comes the ref...Yep, it's correctly ruled an incomplete pass, Hanson will come on to kick the figgie from 34 out.
3-0 Lions! Huzzah! Hip hip hooray! Cue the "Touchdown Heroes" fight song!
Hanson must be on the PEDs, as he boots the kickoff 5 yards deep in the end zone for a touchback. Bucs ball at the 20.
A 1st down run gets 1, Garcia to Galloway gets 7. 3rd and 2, let's see if the Lions can get a 3 and out. Shit, it's too much to ask, a off tackle run gets the 1st.
A 1st down pass gets 9, thanks to awful Lions tackling. Graham busts up the gut for 9, another 1st down. Now it's Bennett for a couple, and the Bucs are over midfield. Now it's Garcia to Graham, and it's 10 yards, another 1st. The Bucs are getting 8-10 yards a pop...
It's another off tackle handoff, Big Baby busts in, causing the hand off to be butchered, and the ball bounces right into Rogers hands!! Another Bucs turnover! Lions start at the Bucs 49! Rogers showed up to play!
Kitna drops, finds Roy Williams! The ball hits Roy right in the numbers, bounces HIGH, and he somehow corrals it for a 9 yard gain. More dramatic than it needed to be, I must say. Jones gets another carry, 1st down!
Kitna to Calvin Johnson on a slant, and it's another 1st down at the 18. Lions are moving...
Off tackle hand off to Jones, he bounces it outside, gets the corner....TD!!! No, he's out at the 1! Shit! But Jones finishes the impressive drive with an off tackle dive! TD Lions! 10-0 Detroit!
OK, so far, so good. The D-line is playing well, which is the best bellwether as to how effective the Lions will be on any given day. Plus Jones has 7 carries for 42 yards, so the Lions have found their running game. On the flip side, the Bucs have been able to move the ball, so I'm tempering my enthusiasm.
Bucs will start on their own 18, thanks to another big kick from Hanson. Gotta be the HGH, ya think?
2 quick Garcia passes get a 1st down, Bucs at their own 31. Bucs are going underneath for all their passing, have not yet looked deep.
What? Kalimba Edwards with a tackle? 2nd and 9, Bucs. But another Garcia dump off gets 11! ARRRGH, Ike Hillard is wide open on 1st down, Moonball hits him deep, Bucs will end the quarter at the Lions 15.
Obvious blown coverage, no Lion was within 15 yards. SHIT!
Quarter ends with the Lions up, 10 - zip. Offense has looked good. The defense has been opportunistic, but porous.