It almost slipped through the cracks, but there was an interesting NFL transaction Tuesday. The Lions former 300 lb wide receiver, 1st round uber-bust Mike Williams, was released by the Raiders. I'd think it's safe to say that Williams' short, disappointing NFL career is over.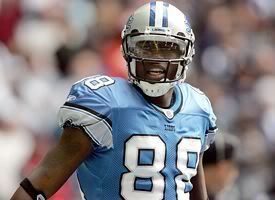 Mike Williams couldn't run a post route to save his life,
but he sure knew the fastest route to Dunkin Donuts
Unfortunately, Big Mike had more interest in trying to find his next glazed donut, than keeping in shape or learning the playbook. His short career was a huge (Pun intended) waste of talent, a #10 overall draft pick, one Hell of a lot of money, and of everyone's time.
Wasted picks the like of Big Mike Williams is why I'll never let up on Matt Millen. Yes, the Lions are 5-2. But they are winning despite of the incompetent boob, not in thanks to anything the dumb ass has done.
What will be Millen's legacy?
That he drafted Joey Harrington, Charles Rogers, and Mike Williams,
"The Murderer's Row of Suck
."
All 1st round draft picks, all no longer Lions, and all total and utter BUSTS. I hope that legacy ends up on Millen's tombstone...