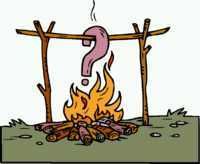 As I'm still somewhat in shock over the Michigan Wolverines choking away their season in the first game of the season, I'm still trying to put my thoughts into words.

On top of that clusterfuck of a debacle, I'm also somewhat in shock over the Tigers losing 2 of 3 to the A's, especially Sunday's painful beyond words loss. In losing 8-7, while giving away a 7-0 lead, that was a nut punch that may have killed the Tigers' chances of repeating as AL champs.

I figured I tackle the Tigers first, as the Detroit News' Lynn Henning gave us the "Gift" of another of his "Burning questions" columns Monday. so let's take a look at the Tigers' vital signs, shall we?

Burning questions as the Tigers try to pull a mini-Appalachian State and overtake the Cleveland Indians in the regular season's final month: Q: How could the Tigers have allowed Sunday's catastrophe at Oakland to occur -- blowing a 7-0 lead and losing 8-7?

Henning: The Tigers lost Sunday the way they have lost at least a dozen times this season. They did themselves in, and there is no other way to describe it. This off-season is going to require some serious reflections on why so many games got away from a team that literally has tossed away at least 12 games.

Big Al: I wouldn't say Detroit allowed the catastrophe to happen... But it was a catastrophe all the same. The loss on Sunday was a gut punch, a loss that may have been a harbinger of things to come. That being the end of the Tigers reign as American League champions.

I agree with Henning when he says that the Tigers will need to look long and hard at their roster, and figure out why there have been so many late inning collapses and near misses. that's even if they do stop the bleeding, and make the playoffs. As currently put together, the Tigers don't have a good enough roster to seriously contend next season. They'll need to make a few important roster upgrades to assure that they will compete for a title in 2008.

Q: Who deserves the blame?

Henning: It's fine if fans want to blame the manager, who is absolutely accountable for the way his team performs. If Jim Leyland got undue praise a year ago, he probably deserves heavy blame for this season. But I don't think it's that simple. Just when it appeared the bullpen was the strength of this team -- for good reason -- the Tigers came apart Sunday.

Fernando Rodney had been all but flawless since coming back from his tendinitis problems. Todd Jones had been shutting down everyone. And both of them collapsed Sunday with a game on the line. That's not a manager's fault, but that's the way things have gone this season.

Big Al: Who's at fault? Can you say, with any conviction, that's it's totally Jim Leyland's fault? Baseball is a team game, and Leyland isn't on the field. The players themselves have been shooting themselves in the foot.

This past weekend is just further conformation that 2006 was truly Detroit's year, in that the Tigers were destined to win the pennant. Last season. Jim Leyland would use role players in odd ways, along with his strange batting orders, yet those role players would come through, and the batting orders worked to perfection. In 2007, neither has happened with any regularity.

Nothing has gone right for the Tigers this season. Injuries, unexpected declines, injuries, players being asked to do more than they are capable, and injuries have all caught up with the Tigers in the 2nd half.

Leyland will take his share of the blame, as it's part of the job. But can you blame any of the above on Jim Leyland? Didn't think so...

Q: Why didn't Nate Robertson finish things off Sunday? Why didn't hitters who built a 7-0 lead pour it on?

Henning: This is where the 2007 season becomes a team effort in losing crushing games. Robertson has got to finish off games and figure out how to win. He had run support Sunday. He had a perfect game going into the fifth. He's got to get his team into the seventh or eighth inning.

Tigers hitters, likewise, have been terrific this season -- and for a good portion of last season -- at building big leads and then sitting dead in the water from the fifth inning on. That's got to be addressed. Maybe Leyland needs to become more aggressive if his team can't seem to manufacture big innings late in a game. But this team's tendencies have got to be addressed during the off-season.

Big Al: I think Robertson could have gone deeper into the game, and earlier in the season, Leyland would have let him. But Leyland knew he HAD to have this game, with all the teams ahead of them in the standings losing, so he took Robertson out after a somewhat shaky 6th inning.

You can tell that Leyland is managing with a sense of urgency. Why else would he have taken out Nate Robertson when he did? I can see where Leyland was coming from in making the decision. He had 2 late inning relievers who have been lights out for quite some time in Fernando Rodney and Todd Jones. You would have thought they could have protected what was, at the time, a 7-2 lead.

They sure couldn't have picked a worse game to simultaneously implode. But implode they did, blowing the game, and maybe the season.

As for the hitters, the Tigers won numerous games with late inning heroics in 2006. But as Henning says, they have all too often gone silent late in games. Why? I have no idea, and the Tigers, from Leyland on down, don't appear to have an answer, either.

Q: The implication there is that the Tigers are finished?

Henning: Cleveland finally did the Tigers a favor Sunday. Detroit would have been a very manageable 4 ½ games out of first place with four weeks left. The Tigers had a 7-0 lead. Yeah, when you lose a game such as Sunday's, you're finished. That simple. Mathematics may say differently, but, spiritually, this team ended its 2007 season Sunday.

Big Al: Hell no they aren't finished! The wild card is still well in play, and the central isn't totally out of reach...Yet.

But in no way is the season over, spiritually or mathematically. As is always said by wise baseball men, wiser men than me, momentum is your next day's starting pitcher. If Justin Verlander and Jeremy Bonderman can continue pitch as they have in their recent starts, and Kenny Rogers returns in good form, the Tigers are entirely capable of making a run.

Sure, that's a ton of "Ifs and buts," and the odds aren't good that it will happen. Still, it could happen, and there is an entire month of baseball left to play.

There's still time. But if they spend another week of blowing winnable games, the season will be over. Spiritually and mathematically.

Q: Isn't Leyland to be blamed for starting an inferior lineup Sunday? Cameron Maybin? Mike Rabelo? Where were Carlos Guillen and Pudge Rodriguez?

Henning: It wasn't the batting order that failed the Tigers on Sunday. It was a pitching staff that should be ashamed for allowing that game to dissolve.

Big Al: No, the loss wasn't the fault of an "Inferior" lineup. But it was a strange lineup for a team literally fighting for their playoff lives. Timo Perez is a 4A player, and shouldn't be starting in the middle of a playoff race. Cameron Maybin has the tools, but is not ready to contribute. He shouldn't be starting either.

I can understand playing Rabelo though, as Pudge is in midst of the worst slump of his illustrious career. I don't want to see him play every day, but if resting Pudge 2 games a week could help him get his batting eye back, I can live with it.

I do think that Leyland has to stop playing chess games with his lineup, and play his best players, day in, and day out. Time is quickly running out, and they absolutely cannot afford to gag away anymore games.

Q: What are Tigers fans to make of manager Jim Leyland's Saturday benching of Brandon Inge and Marcus Thames? What does it say about their status short-term and long-term?

Henning: It is safe to say Inge's second-half tumble has the team thoroughly baffled and probably a bit irked. He hit .343 in June with 20 strikeouts. In July, he hit .232 with 34 strikeouts. In August, he hit .193 with 35 strikeouts. A man who hit 27 home runs a year ago has one home run since June 12 and 12 for the season.

Something clearly is up. But no one seems to know what's going on with a guy who turned 30 in May. It's a toss-up as to which player -- Inge or Kenny Rogers -- is the best athlete on the team. It makes his 2007 nosedive all the more bewildering.

Big Al: As always, Inge's athleticism is brought into the equation. but it isn't helping him hit the damn ball.

When the Tigers signed him to a 4 year deal this past off season, I had no problem with it. As a gold glove caliber 3rd baseman who would hit .250 from the 9 hole, with 25-30 home run power, Inge looked to be locked in as the 3rd sacker of the foreseeable future. With his awful 2nd half, that future has become quite cloudy.

If Inge is hitting home runs, you can live with his average. But when you add together absolutely no power, combined with strikeouts galore, and that low low average? Inge has suddenly become another problem, rather than part of the solution.

Inge is still under contract for another 3 seasons, and there's no obvious replacement with Jack Hannahan being traded, and Ryan Raburn a candidate for a outfield slot. So I'd expect the Tigers to keep him at 3rd going into next season, and hope that he regains his 05-06 form. He'll be on a very short leash though.

Q: Why has Thames fallen off, aside from a big game Sunday?

Henning: Remember, he hit .199 during the second half of last season, so his recent woes (.222 average in August with 22 strikeouts in 72 at-bats) are nothing new. Thames has all along had to fight concerns that he is not an everyday player. His second-half falloffs have bolstered earlier thoughts.

Big Al: Thames is what he is, a modern day Rob Deer or Dave Kingman. He may only hit .225, but he'll go deep enough times to make the average more than palatable. I still think if he gets 400 at bats, Thames hits 30-35 home runs. Any team would take that kind of production.

Q: What are the long-term ramifications?

Henning: Inge has gone through these offensive blackout periods before, only to re-emerge as a better hitter. It would be in keeping with past history if he came out next year and had a comeback season. The Tigers need his defense too much to get down on Inge when he has shown before that he can hit. Thames' situation is different. The Tigers will likely hang onto him as an important, power-hitting hitter who can be most effective in a limited role. But that doesn't do much for their long-term void in left field?

Big Al: As I said above, the Tigers have no replacement for Inge. He's the 3rd baseman for 2008. I agree his defense makes him somewhat valuable, but the Tigers cannot have another season of little power production from both corner infield positions, and expect to contend. He needs to find his power stroke.

Is Thames the long-term solution in left? No, but he can be part of the short term one, at least for 2008, or until Cameron Maybin proves ready.

Q: Ideas on how Detroit will look at left field in 2008?

Henning: It wouldn't be surprising to see them work a platoon arrangement there, with Ryan Raburn, Thames, and perhaps Timo Perez sharing the load. The Tigers are likely to make some kind of trade or free-agent acquisition in the off-season, but Raburn has a nice future with the Tigers and Perez, who is only 32, has enough of a track record to at least give them temporary hope there.

Big Al: Uh...WHAT? Did Henning actually have the stones to mention Timo Perez as being in the mix for left field in 2008? And say he's only 32? Seriously? At the age of 32, the odds are damn good that Perez is only going to get worse, and he's no great shakes now. If Perez is playing left field for the Tigers on a regular basis in 2008, I'll...I'll...I'll...well, I'll do something to show my displeasure.

If Timo Perez is even considered as a platoon outfielder, it'll be due to the fact that the Tigers front office brass are, to put it bluntly, stupid ass crazy.

A platoon does make sense using either Thames or Raburn, but not Perez. Obviously, the Tigers would have to acquire a solid left hand hitting corner outfielder via trade or free agency in this coming off season to make a platoon work. If you remember, a left handed bat was in the plans for the last off season, and we saw how that turned out.

With the demise of Craig Monroe, and the how obvious it's become that Thames and/or Raburn would be best used in an outfield platoon, finding that lefty bat has suddenly become a big time priority.

Q: Looking at other positions, how are the Tigers viewing Carlos Guillen and his emerging move to first base?

Henning: If they had a suitable everyday replacement at shortstop, the shift would be viewed as a winner. Have fans noticed how sharp Guillen has been during his first-base stints? His defense has been superb and, on occasion, has been fantastic.

Big Al: The days are long gone when you could hide a good field-no hit shortstop in an American League lineup. Defense only shortstops like Mark Belanger or Ray Oyler, guys who started for elite teams in the 60's and 70's, would never even get on the field now. in You just can't afford to give up a near automatic out in today's style of high scoring AL baseball.

We may find out soon if the Tigers are going to buck today's conventional wisdom.

How Jim Leyland has been using Guillen over the past couple of weeks, playing 1st base more and more often, especially in the late innings so he has the defense of Ramon Santiago on the field, it looks as if the Tigers plan on a move of Guillen to 1st base sooner, than later.

I've voiced my opposition to this in the past. Guillen's bat is elite for a shortstop, but it's only above average for a 1st baseman. Replace him with Santiago full time, and you weaken the team more offensively, than you would improve it defensively.

I still think the better solution is to find a true power hitting 1st baseman, and leave Guillen at short for the time being. But just like their quest for that elusive left handed bat, the Tigers' search for a traditional 1st baseman with power has proved fruitless.

Thing is, the Tigers can't go through another year of Sean Casey, or some other stopgap, at 1st. Since they obviously feel it's absolutely necessary that Guillen take over 1st in the next couple of seasons, to keep him healthy and extend his career, I'll begrudgingly go with the plan if, and only if, they find a new shortstop with at some pop in his bat. Good luck in finding one...

The Tigers have their work cut out for them, as the shortstops whom are expected to be available after the season are, as a whole, underwhelming at best. Let's just say I'll need to be convinced that Guillen at 1st, and shortstop to be obtained will be better for the Tigers than Guillen at short, and a traditional power hitting 1st baseman.

Q. What will they do about shortstop?

Henning: If Ramon Santiago had just a tad more offensive punch -- Sunday's big game was an exception -- the Tigers might well decide to make Santiago their starting shortstop next season. But until he shows he can hit with more pop and for a higher average, he will be viewed as a back-up infielder. It means the Tigers will either be shopping for a replacement, or relying on Guillen's knees to hold up as he turns 33 ahead of next season. The latter represents a gamble they're probably disinclined to make.

Big Al: In my mind, the Tigers have to gamble on another year of Carlos Guillen starting at short, unless they can pull a semi-blockbuster to obtain a quality shortstop. Considering the Tigers will be in the market for a left fielder, a bullpen arm or 2, a 1st baseman, and quite possibly a catcher, filling all those positions in 1 off season will be a tall order to fill.

I think the Tigers can live with the status quo of Guillen, with Santiago as a late inning defensive replacement, as the everyday shortstop for at least 1 more season. Unfortunately, it doesn't look like the Tigers feel the same way.

I'll go out on a limb, and say that Jack Wilson is a Tiger in 2008. I won't be happy, but I wouldn't find it a surprise.