With the Tigers, I have moved past thinking the current struggles are just a "Speed bump," and I'm officially concerned. Not panicked, but concerned.

I'm not ready at all to write off the season. But injuries have taken such a toll on the Tigers' roster, that I'm beginning to wonder if they have the ability to overcome them. But it's been more than just injuries that have lead to the Tigers' current situation. Why the Tigers struggle is a mystery to me.

Mysterious circumstances to Detroit's recent slide in the standings abound. In fact, the Tigers have several "Unsolved Mysteries." Cue Robert Stack...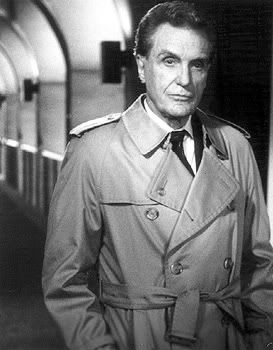 "This post is about unsolved mysteries. Whenever possible, actual bloggers have participated in recreating the events. What you are about to see is not a news broadcast."
Unsolved Mystery #1:
Rayburn vs. Monroe, and why is Raburn losing? Marcus Thames is hurt, which was a damn shame, as he was playing the best all around ball of his career. But Ryan Raburn has played well in his absence. So why isn't Ryan Raburn, who has done nothing but hit, isn't getting the vast majority of playing time in left field? Every fan has been asking, "Why play Craig Monroe?"
Monroe hasn't hit a ball hard in weeks, if not months, yet Leyland continues to hold on to the hope that he'll break out of what is a season long slump. If you consider "Breaking out" to be raising your average over .200, then "Breakout out" he has!
We are 1 week into August, I think we can be sure that "Breaking out" is out of the question. It's sticking too long with players like Monroe, who has inexplicably morphed from being a long ball threat, to a threat to every fan's sanity, is when we become overly frustrated with Leyland's overly mysterious loyalty to some Tigers veterans.
Unsolved Mystery #2:
Why Mike Hessman? Why Hessman is playing at all is a mystery, yet Leyland has felt the need to use him on a regular basis. He's the Marcus Thames of the infield, having considerable power, but doesn't connect for the long ball nearly as often. He's the 25th man, and should be used as such. The more he plays, the more he's getting exposed. And he's really getting exposed...
Hessman is hitting .179. He is making even TBHoS look good. It's time to send Hessman back down. Why hasn't that happened? It's a mystery.
Unsolved Mystery #3:
Why does Jason Grilli leads the bullpen in both innings and appearances? The constant use of Grilli has all Tigers fans scratching their head...Till it's bald. I know that for the past 2+ weeks, the starting pitching has been batted around like a pinata, rarely getting past the 5th inning, which means lots of innings from your bullpen's long man. It hasn't given Leyland much choice, in that he has to trust the pen to keep the game close.
But doesn't mean he has to implicitly trust Grilli. Grilli has been used as a batting practice pitcher by the AL all season, and is a rally waiting to happen. Not exactly what you are looking for from a long man who's
only job
is to keep his own team in the game, by not letting things get out of hand.
Why the Tigers brain trust haven't dipped into their system for a long man, when they have some capable arms who could step into Grilli's role is another of the Tigers' "Unsolved Mysteries."
Unsolved Mystery #4:
What happened to the starting pitching? Your guess is as good as mine. The strain of 2 consecutive pennant races taking a toll? On a staff that's very young, and in Kenny Rogers' case, very old, could playoff stress caught up with them?
The Gambler's elbow doesn't seem to be responding to rest, if you go by the discouraging results of his throwing this past weekend. Nate Robertson has struggled mightily with his velocity and control since May. Youngster Andrew Miller has shown flashes, but is inconsistent, and currently laid up with a strained hamstring.
As for the young studs, Jeremy Bonderman and Justin Verlander , they look gassed, as if having to carry the Tigers' pitching load has been too much for them.
If Vrigil Vasquez and Jordan Tata hadn't picked up some of the starter's slack, well, I don't want to even think about how ugly things might be at Comerica.
The starters, especially Bonderman and Verlander, need to step up, and step up immediately.
If not, the big story of the playoff stretch run will be the mysterious demise of the Tigers' rotation.
Unsolved Mystery #5:
What happened to the offense? I think that isn't quite so mysterious. The offense is in suspended animation thanks to an injury and a slump, specifically Gary Sheffield and Curtis Granderson.
Sheffield's shoulder injury needs to heal, and heal fast. He's a huge cog in the offense. But he's not the only cog to have stopped working. Curtis Granderson has slumped badly over the past week, and that made the offense even more impotent, if that's possible.
As go Granderson and Sheffield, so goes the offense. Mystery solved.
But how long has it been since we've seen a big, inning busting, hit? A hit to win a game? From anyone? The offense has been in a slumber for going on 3 weeks, and when combined with the starting pitching suddenly going south, makes for a mysteriously bad looking team.
And that's the biggest mystery of all. What happened to the juggernaut of a team that we saw steamroll through the AL in the 1st half of the season? It's one not even Robert Stack has been able to solve.
But somehow, someway, Jim Leyland has to unravel the mystery that is the Detroit Tigers.