It's a melancholy day here at TWFE HQ. There's conflicting emotions, knowing the Tigers are doing what's best for their playoff chances this season, and for their long-term future, by releasing another long time Tiger.

The former man-crush of TWFE, Craig Monroe, who hit the 2 biggest home runs of the Tigers' miracle 2006 season, was designated for assignment today. His career as a Tiger is over. Much like Mike Maroth, he was a below league average player who had outlived his usefulness as a Tiger. An OBP lower than Lindsey Lohan's blood alcohol count didn't help matters...

What hurt C-Mo the most is that had stopped hitting home runs. To be honest, Monroe had stopped hitting, period. When your entire worth to a team is tied to your slugging, and you can't even wrangle a base on balls, essentially making you a highly paid 5th outfielder, your days are numbered. Monroe's number came up today.

Monroe had been passed in the big league depth chart by Marcus Thames and Ryan Raburn. The Tigers also had his heir apparent in left field, uber-prospect Cameron Maybin, tearing up the opposition at AA Erie. Monroe was the odd man out.

With the team needing to make room for Maybin, who (Surprisingly) received the call to report to New York, and join the Tigers, the most expendable player was Monroe.

One career begins, and one comes to an end.

Monroe will be long remembered by Tigers fans for his remarkable knack for clutch home runs in 2006. There was the huge grand slam against the White Sox during what was then called the most important series the Tigers had played in 2 decades.

There was also the big home run, in August, in New York, in a pennant race (Talk about symmetry), where Monroe went deep with 2 out in the 9th inning, to beat the Yankees, avoiding a doubleheader sweep that would have sent the Tigers' fanbase into a full blown panic attack.

Monroe continued his 2006 2nd half clutch hitting with 5 home runs in the postseason. Thus my dubbing him, "His Cutchiness."

Unfortunately, "His Clutchiness" of 2006 became "His Suckiness" and "C-No" in 2007.

I had pondered if Monroe's days as a Tigers were numbered a month ago.


If Craig Monroe wants to remain a Tiger, he needs to find his bat. Soon. As in yesterday. Otherwise, you may be seeing a "Thanks for the memories" post, just like Maroth's."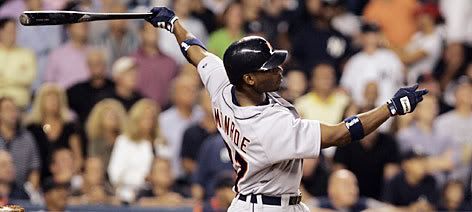 Monroe never did reclaim his 2006 home run touch. So consider this your "
Thanks for the memories
" post, Craig "His Clutchiness" Monroe. As a long-time Tiger who's time had sadly run out in the D, you'll be remembered fondly by this fan.