We have a new home run champion. Barry Bonds hit home run number 756 at approximately 11:54 pm, EST.

I was flipping channels, not specifically looking for anything in particular. I haven't been watching the worldwide leader's obsessive Bonds coverage closely at all. But when I saw Bonds at the plate, as always, I stopped to watch his at bat. What was weird about this time though, is that I then hit record on my DVR. I had this weird feeling that we were FINALLY going to see the end of the Bonds hoopla. I just knew was going to go yard.

Which he did, emphatically, to deep right center.

The home run chase is over. Bonds finally broke what's inarguably the most important record in all of sport. But now what? That's the question now, where do the fans, the MSM, MLB, and Barry Bonds all go from here? Now what?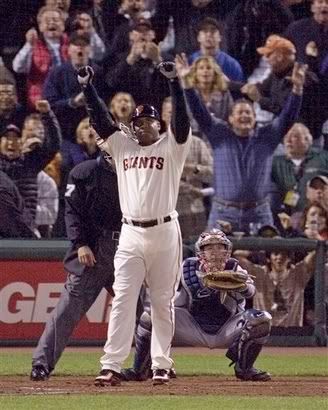 Will Bonds be considered the true record holder? Of course, he's the home run king in MLB's record book, just as it was once certain that Mark McGuire was "Officially" the single season home run record holder before Bonds. But circumstances change.

With the stain of steroids, is Bonds the true heir to Hank Aaron and Babe Ruth? Deep down inside, I think most fans really feel that Bonds cheated, along with McGuire, Sosa, Palmeiro, and most everyone else in baseball from the mid 90's to the early 00's.

Which is why most fans didn't get fired up over Bonds. I can put my own thoughts about Barry Bonds, and the home run record, into 1 word. "Meh."

When you have a hateful man, a jerk who's rarely pleasant to anyone, who is under investigation by the feds, and is also the head face of the lingering stain that is the steroids era in baseball, you end up with a home run champion that's impossible to get behind. I don't hate Bonds, but I sure as Hell can't say I root for him, either.

To confuse feelings even more, you cannot deny that Bonds was also a great player before the (Unconfirmed) steroids. He would have been an odds on hall of famer without being juiced. But would he have beat Aaron without the cream and the clear? Probably not..

Honestly, I'm ambivalent when it comes to Bonds. Which is how almost all fans seem to feel about Bonds, the record, and the steroid era in general. We're not sure what to think. We're just glad it's over.

In a perfect world, Bonds rides off into the sunset, retires at the end of the season, and steps out of the limelight altogether, just like his contemporary, McGuire. I doubt that happens. Bonds will probably hangs around for a couple of seasons, add 40-50 more home run to the record, and the arguing over who is the "True" home run champion will continue unabated.

Hell, I bet it won't stop till Alex Rodriguez makes his run at the record. For all we know, by the time that happens, Bonds could be in the pen, as the BALCO issues still haven't gone away, and neither have the feds.

But my ramblings still hasn't answered the question, "Now what?" I'm not sure what happens now. I doubt anyone does.

I do hope that Bonds becoming the home run king will allow us to close the book on MLB's steroids era. Thing is, I didn't enjoy he book, and I can't say for sure if the book had a happy ending.