Lions wunderkind Drew Stanton is out for 4-6 weeks, thanks to a knee injury. Well, his season is shot.

The Killer says this puts the Lions in a huge bind...


The problem is that these next four weeks are the most crucial time for Stanton's early development because this is where he gets a chance to learn and improve. Once the team starts preparing for the regular season, practice reps go to the starters and Stanton goes on the backburner for the rest of the year.
That leaves the backup QB job with a 5th round draft pick who has barely played in 2 seasons, Dan Orlovsky, and the NFL Europa reject, J.T. O'Sullivan. Jon Kitna best strap on his flak jacket extra tight, because if he goes down...Would 0-16 not be out of the question?
Typical Lions. If they didn't have bad luck they'd have no luck at all.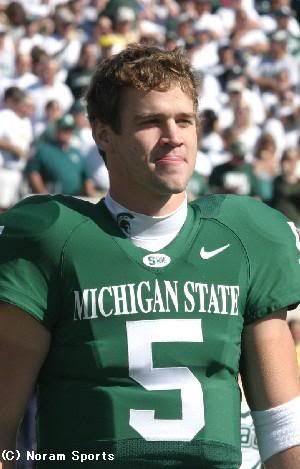 A picture of Drew Stanton standing injured on the sidelines at MSU was not hard to find.
I expect it will to be just as easy to find the same as a Detroit Lion...
Then again, you could say that the Lions brought this "Luck" on themselves by, 1) Trading an experienced backup QB in Josh McCown, and 2) Drafting a QB that was known for having injury issues in college.
Stanton, talented as he might be, could never stay healthy at MSU. Was it smart to think that his proneness to injury would change in the NFL? He has an injury history as long as Millen's face was when he got the news about Stanton's knee.
Stanton tore up his knee in 2003 Alamo Bowl (On punt coverage, of all things. Typical Sparty), separated his shoulder against Michigan (Admittedly, he was dominating the game when he got hurt), essentially ending his 2004 season, and he missed part of several games, and the Penn St. game entirely, due to a variety of injuries in 2006.
So to hear that Stanton is hurt again, should that be a surprise? To anyone? Other that Matt Millen, anyway...
The Lions, once again, are on a roll with their high draft picks. Their number 1, Calvin Johnson, is holding out, and Stanton, their top round 2 pick, is going to miss most of training camp due to knee surgery. Considering that Mike Martz is known to have the most complex offenses in the NFL, this does not bode well.
Then again, no matter what the subject may be, it never bodes well for the Detroit Lions.