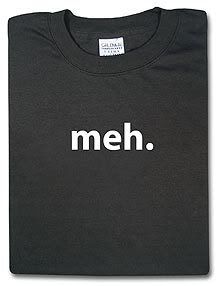 My only thought about last night's Florida win over tOSU?

"Meh."

That's how disappointingly blah the 2007 NCAA's have been as a whole. Other than if you root for a Final Four team, anyway. Al I could think of as Florida dominated the game was, "I'm missing 24 for this?" And we are talking about a down year for 24! That's how obvious it was that Florida was going to win, easily.

Even Gus Johnson couldn't have saved the game from being memorably unmemorable.

I was actually surfing the web during the game looking for updates on the John Beilein hiring. That's how indifferent I was to the action on the court. Florida winning was inevitable.

I can say that Greg Oden gave us all another reminder that he is more than ready for the NBA. As a matter of fact, Mike Conley, Jr. should go as well. With the Pistons earlier of the 2 first round picks that they have, I'd be plenty happy if they could nab Conley.

My overriding thought about Florida was that I dislike Joakim Noah. He's a much less talented, and more annoying, Bill Laimbeer. Personally, I don't get the hype with this guy. Noah can't shoot, and is undersized. He's a role player, at best, in the NBA.

I turned off the game at the buzzer, and tuned to something actually entertaining, "The Richers" on FX, as I knew what was coming on CBS. That being the crap ass music video montage, "One Shining Moment." If there is one thing that is more overrated than Noah, which is really saying something, it's the sappy and maudlin "One Shining Moment." Sappy and maudlin are the last things you can say about "The Riches."

I love the NCAA's, I really do. But I cannot remember a more disappointing tournament than 2007 version. Next to no upsets, close games were the exception and not the rule, Gus Johnson only worked the 1st weekend (James Brown is not a capable play-by-play man), no Michigan (Again), and the admittedly overachieving Spartans were one and done, there was the most sleep inducing Final four game ever played with Florida's destruction of UCLA, and a champion that, as good as they are, I just can't get emotional about the Gators.

All this talk about their being one of the greatest teams ever after the game was ludicrous. First off,it's much to soon to declaring anything "The greatest ever.' You need to have some time go by before looking back.

What the Gators' starting 5 has accomplished over the past 2 seasons is amazing, especially in this era of parity. But while watching them, I just didn't get the feeling I was watching one of the best teams ever. Much like the saying "I know porn when I see it," I know a team for the ages when I see it. I didn't see it with Florida. I saw a very good team, with an elite coach, whose sum was greater than the parts.