2:15 est - Let's see, the Sports Inferno is mulling over tonight's Wolverines - Spartans game. Before that though, the talk is that about all that's left out there is Todd (Neck breaker) Bertuzzi. ESPN News has had the Blues trading Bill Guerin to the Sharks "Breaking News" up for a good hour now.

2:20 est - Nothing on the Wings front. Let's surf the web... Motownsports.com has a poster saying that WDFN reported the Wings get the neck breaker from the Panthers, no other details. Switch to WDFN, and they are back to Jim Rome. Nothing about Bertuzzi on WXYT as of yet.

2:30 est - WXYT is now reporting the same, Bertuzzi is a Wing. I'm not sure hat to think of this, depends on what Ken Holland gave up. ESPN News is reporting on the baseball HOF veterans committee didn't elect anyone. What about the NHL!?! Oh yeah, it's ESPN...

2:35 est - WDFN saying draft picks and possibly a prospect is the cost for Bertuzzi. More details to come, obviously.

2:35 est - For all things NHL, let's go to Kukla's Korner. Bingo! A little more info, there are medical issues to yet be sorted out, a draft pick and a prospect is the cost.

2:38 est - Browser crashed! AAAARRGH!

2:45 est - TSN.ca says it's a conditional pick. Also a little more on the contract, he's in the last year of a 27.8 million dollar deal.

2:50 est - "Breaking news" replacing the Guerin trade on ESPN News! Jon Bon Jovi and John Elway are coming up at 3 pm!

2:54 est- One of the best Red Wings bloggers, iwoCPO over at A2Y, has a post up. His take?


I like it. I've liked it all along. I'm assuming a physical will determine when or if Bert actually dons the Winged Wheel.

Anyone want to guess how long it will take little Little Mitch to pen a sobbing column of outrage? I'm betting 24 hours.
3:00 est - It's over... The deadline has now passed. Still waiting to hear more trade details.
3:02 est- Mullet boy, Barry Melrose, is on ESPN News. His take is that it's a good move for the Red Wings, as the cost wasn't much. His exact words were,
"A can't miss for Detroit."
Well, if Melrose likes the deal...
3:06 est - Stoney & Wojo lead with Bertuzzi.
"PANIC IN WESTERN CONFERENCE TOWN!"
I
hate
radio Wojo...
3:07 est - Wojo finally calms down, likes the trade. Stoney says the pick could be a number 1 if the Wings make the WCF, and Bertuzzi plays.
3:11 est - Kevin Allen of the McPaper tells S&W he likes the deal, Bertuzzi thinks he's healthy, and the Wings will give him all the time he needs to be ready for the playoffs. Says the Wings wanted grit, and they got it with the 2 trades.
Wings fans love to hear that word,
"GRIT."
3:18 est - Tune over to WXYT, and the Sports Inferno. Mike Valenti
LOVES LOVE LOVES
the deal, saying the Wings
"Got a beast!"
So far, from everything I've read and heard in the MSM, both the expert and not so expert, like the deal.
3:21 est - Wings play by play announcer and mouthpiece, Ken Kal, comes on the Sports Inferno. Likes the 2 deals,
"Terrific"
was the word used. But would he actually say anything other than that? I think not.
3:30 est - WDFN reporting that if the Red Wings do resign Bertuzzi, who's a free agent at the end of the season, an additional 2nd round pick goes to the Panthers. Nothing new on the trade at the 2 Detroit fishwraps, other than that Bertuzzi is a Wing. Almost forgot, the prospect is Shawn Mattias. But as A2Y would say,
"Kahn!"
Anser Kahn is all over the trade at
Milive
.
The full details of the trade....
It's official, the Red Wings have acquired Florida's Todd Bertuzzi for prospect Shawn Matthias and up to two conditional draft picks, the club announced.

Florida will get either a first-, a second- or a third-round pick in 2007 based on Bertuzzi's performance and the success of the team. Florida will also get a second-round pick in 2008 if Bertuzzi, an unrestricted free agent at the end of the season, re-signs with Detroit.
Kahn! also gives his opinion, which is favorable...
The Wings had to do something, especially after San Jose acquired Guerin from St. Louis earlier today. If Bertuzzi is fine and healthy, he'll go a long toward solving the Wings size and toughness concerns. With Bertuzzi and Kyle Calder, acquired on Monday, the Wings are much more gritty and tougher to play against, which has been their objective all season.
There's that word "GRIT" again...
3:45 est - Ken Holland is interviewed on WXYT. Uses
"Grit," "Gritty," "Grittiness,"
or some variation thereof, countless times when talking about both trades. Even the Red Wings GM LOVES that word...
GRIT!

4:00 est - God damn f'n browser locked up! Grrrr.
4:15 est - My thoughts... The Wings had to make a move. Absolutely had to. Considering the insanely high prices paid for the likes of Geurin and Forsberg, the Wings did pretty damn well. Bertuzzi is still young, has
GRIT
, and unquestionably very talented. A power forwards power forward. When healthy, that is. As someone with huge back problems, I have to wonder just how healthy can Bertuzzi be? You're never quite the same once you start having back issues, so it's a huge concern.
As for the elephant in the room...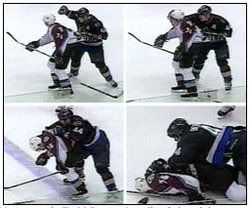 As I'm sure most any Red Wing fan is this afternoon, I'm torn. I'm in a moral gray area. Bertuzzi's cheap shot on Steve Moore was one of the worst I've ever seen. It was damn near evil. It was a despicable move. Moore will never be the same.
But the NHL has seen fit to allow Bertuzzi to play again. He served his suspension. Bertuzzi is in the good graces, for better or worse, of the NHL, and has every right to play. If he can help the Wings, and their braintrust obviously think he can, I'm going to defer to their judgment.
If they think Bertuzzi will fit in the locker room, and win them some games, then I'm for the trade. I may not like Bertuzzi, but I do like the Wings. So I'll root for Bertuzzi. I'm not sure I'm going to like myself afterwards, though.
Then again,
I once despised
Chris Chelios too, and actually grew to appreciate him. Maybe the same will happen with Bertuzzi...