I've seen the Detroit Red Wings numerous times over the years, more than I'd care to count. My Red Wings fandom goes far back, before all the Hockeytown hype, before Joe Louis Arena, before Ted Lindsay and his "Aggressive hockey's back in town" mantra, which was sadly misleading.

My fandom goes all the way back to the very late 60's and the old barn on Grand River, The Olympia. My dad would take me 4-5 games a season, and I have vauge memories of watching Alex Delvecchio, Nick Libett, Roger Crozier, Garry Unger, and of course, Gordie Howe. But I wouldn't call them players of my era, so to speak. That would be the next generation of Red Wings.

Unfortunately, I have much clearer memories of that generation of Red Wings players, which we all know, not so fondly, as the "Darkness with Harkness" and "Dead Things" years.

The Wings that I grew up watching, the teams of the mid to late 70's, were horrid beyond belief. My best memory, and pretty much the only pleasant one, being Bill Lochead's one moment in the spotlight, his highlight reel goal that beat the Atlanta Flames in the first round of the 77-78 playoffs. For a fan who knew nothing more than Detroit sports despair, that was a glorious goal. To the Red Wings fans that grew up in the 70's, that was, sad to say, in our young minds, the greatest moment in Red Wings history.

Obviously, the Wings gradually got better, as do my memories. The 2nd date with my now ex-wife was Red Wings opening night in 1984. I was actually able to buy tickets to the game that same day, and only be halfway up the lower bowl. Things sure have changed...

I would occasionally get SRO tix, and bond with drunk Canucks. I had SRO tix the night me and ny 2 best buds saw Lee Norwood tangle with Tiger Williams. Norwood won the fight with a memorable, and bloody as Hell, head butt. (Amazingly enough, a quick Google search led me to dropyourgloves.com, which confirmed that Norwood took on Williams on 3/25/87. Obsessive hockey fight fans are a wonderful bunch.)

One of my best memories was of being in a suite the night Bob Probert took on Troy Crowder in 1991. Earlier that season, Crowder had beat Probie, and this was one of the most hyped rematches ever. The local papers even ran a "Tale of the Tape," and it was a given that they were going to go a couple of times. Dropyourgloves.com confirms what I remember, as my friends and I had their 2 brawls scored a draw. Probie winning the first fight, and Crowder taking the second. The Wings lost big to the Devils that night, and to be honest, no one cared. It was all about Probert vs. Crowder. And Don Cherry making an appearance. Lord, I miss hockey fights...

I guess the previous paragraphs are my drawn out way of saying that I'm a long time Red Wings fan who's let himself fall out of the hockey loop over the past few years.

As I told you on Thursday, I was going to be attending Friday's Red Wings - Minnesota Wild game. Last night was the first Red Wings game I've seen in person since before the lockout. So we are talking at least 3 years since I'd last been to Joe Louis.

I'm used to sitting in the top couple of rows of the upper bowl, with the hard core hockey riff-raff. Last night though, we had great seats, mid ice, top row of the lower bowl. It's been quite a while since I've had the opportunity to sit relatively close to the action, with Detroit's hoi polloi.

Without question, the night confirmed one thing for me. I'd forgotten just how wonderful hockey is to watch live. God damn, it's a great game in person!

I took some lame photos and video, and I doubt you want to see them. But as it's my blog, I can post whatever the Hell I want. So you get to see the results of my lack of any photography skill.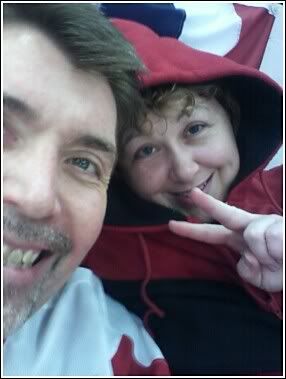 This is the GF and I during the game. She pulled up her hoodie in hopes of keeping her identity secret. Sorry, Kiddo.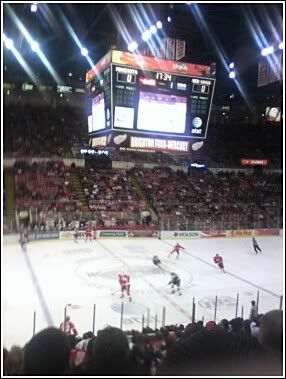 This is an incredibly lame picture taken with my Sprint bribe phone's camera. If you squint your eyes, you can see that it was very early in the first period whem I took this pic.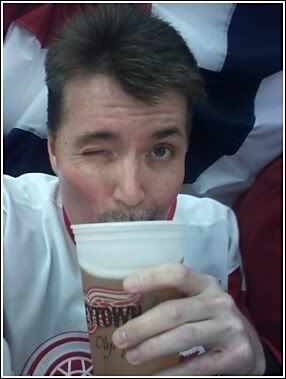 I'm doing my Popeye imitiation while drinking my Festivus gift, an $8.50 Miller Genuine Draft. Festivus for the rest of us! I'm quite obviously ready to pin the head of the household at this point of the night.

And here is TWFE first official You Tube video. Grainy, no discernable action, and me talking incoherently. I'm so proud...



What I'm trying to say with this post is just one thing. Despite what many outside of the Original 6 cities might think, hockey still matters. This blogger just needed to be reminded of it.