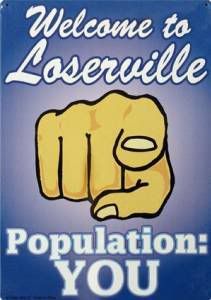 It doesn't take long for the knives to come out when it comes to the Lions. If a team ever deserved such slicing and dicing, it's our not so lovable losers that stink up Ford Field.

Mike Williams is unhappy. Pissed might be a better word. He's been most vocal with the local MSM, saying he's doing everything that is being asked of him, but Martz/Marinelli/Millen would rather play someone, anyone, but him. Currently above the number 10 pick in the 2005 draft on the depth chart are: Az Hakim, whose last productive season was in Madden 2002, Mike Furrey, who's a poor man's Ricky Prohl at best, and Eddie Drummond, whom I'm thrilled to see on the field...When he's returning kicks. Any other time, not so much. Yet an obviously more talented player rots on the bench, counting the days till he gets released. Deservedly or not, Mike Williams is on his way to joining a decades long line of Detroit Lion 1st round draft busts.

Roy Williams is...I don't know what Roy Williams is, other than delusional. He's become a quote machine, and does little more than give the opposition locker room bulletin board material. He's the latest poster boy for crazy ass wide receivers who have big mouths, then do little on the field. Other than silly 1st down histronics, that is... Roy has somehow managed to piss away any goodwill he had built up as the Lions most talented wide out, and has become a national laughing stock for his total cluelessness.

Shaun Rogers has lived up to, or should I say down to, his reputation. But he's gone from just taking plays off, to taking entire games off. Week one, Big Baby was a monster presence against the Seahawks. He looked like the best tackle in football. Week two? From looking at Rogers' stat line of 3 tackles and then nothing but zeros, he was anything but. Next week? Hell if I know, and I doubt the coaching staff does either.

They aren't the only players worth ridiculing. Kevin Jones? He looks like a good runner, but the stats don't lie. The last 18 games worth of stats. Jon Kitna? The stats look good, but he hasn't come close to throwing a TD pass. In his case, the scoreboard doesn't lie. The linebacking core? Can't stay healthy, or make a play. The offensive line? Offensive to one's senses. In those cases, the eyes don't lie.

The coaching hasn't been any better.

Rod Marinelli spent his 2nd presser stonewalling. It was nothing more than his taking "Repsonsibility" for the results in Chicago, saying that they needed to work on those pesky "Details" the Sarge is constantly going on about, and talking in circular gibberish in regard to any questions about Mike Williams' status. I'm quickly losing patience with Marinelli's tough guy disciplinarian act.

First off, he's talking out of both sides of his mouth. Marinelli continually says that he'll play the players who give him the best chance of winning. So how to explain Az Akim getting in the stadium, let alone snaps? He's a better player than Mike Williams? Robin Williams, maybe. The more I think about it, maybe not. What you cannot say, with a straight face, is that Az Akim is better than Mike Williams.

Then we have the naked drunk exhibitionist defensive line coach, Joe Cullen. He's still coaching. Huh? OK...I can see not firing him, as he needs serious help, and the Lions don't want litigation. But wouldn't a leave of absence be a better idea? Pay off his contract, and send him on his naked way? But letting him continue to coach? I guess the Sarge thinks that the possibility of Cullen flashing his wang anywhere, anytime is definitely more condusive to a winning atmosphere...

Has Marinelli's bluster improved anything? Maybe the press confrences, but on the field? I still see silly penalties, an unproductive offense, and a defense that can't get off the field on 3rd down. Up to this point, the Sarge constantly contradicts his words by his actions. He comes off as someone in over his head.

If this ship of fools called the Detroit Lions can't beat the washed up Brett Farve and the Packers, then who in the Hell will they beat? They are already 2 games down in the NFC North. This season, for all intents and purposes, is already over, as this is NOT a playoff team. I'm not sure the Lions are a NFL team.


Tags: