As it's pretty damn slow on the Detroit sports scene today, and I've milked it for all I could in my earlier posts, I wanted to touch on the Kwame Kilpatrick "situation" one more time. As Detroit's mayor is back on the job, even if he's not answering questions,I thought it might be fun to break down Kwame's pros and cons.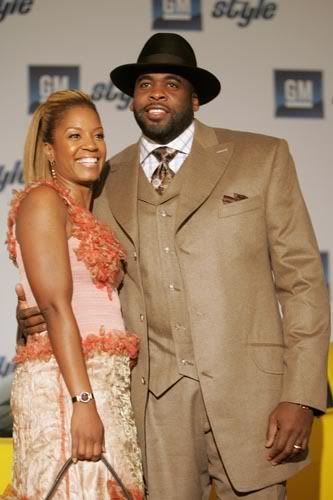 Kwame was unable to answer questions from the media,
as he was too busy conducting interviews to find his new Chief of Staff...


Trust me, it wasn't as easy as you might think, as it was much easier to come up with the cons...
Let's break down the Kilpatrick administration, shall we?
Pro:
Kwame wears nice suits.
Con:
If you are a first round NBA draft pick.
Pro:
Kwame loves Detroit sports.
Con:
He scores more often than the Red Wings and Tigers combined.
Pro:
The Super Bowl went off without a hitch!
Con:
Thanks to former mayor Dennis Archer laying all the groundwork! Kwame just took all the credit.
Pro:
Kwame's administration has provided plenty of jobs...
Con:
For his 150 man deep security entourage. For the rest of the city? Not so much.
Pro:
Kwame travels all over the country to pump Detroit as a destination.
Con:
He also brings along his mistress, and pumps her. Long and hard.
Pro:
Kwame's serving his second term in office.
Con:
His mistress is in her second trimester.
Pro:
Despite his numerous peccadillo's, many of Detroit's voters still like the mayor.
Con:
They liked Coleman Young too, need I say more?
Pro:
He said he was sorry!
Con:
Being sorry won't pay back the $9 million lawsuit settlement.
Pro:
Kwame's wife stands by her man...
Con:
Because she sure loves her Cadillac Escalade bought on Detroit's dime.
Pro:
Kwame's former mistress resigned as chief of staff.
Con:
Only to be replaced with his buddy, who's as responsible with his money as Pac Man Jones in a strip club.
Pro:
All of Kwame's friends had a great time at parties thrown at the Manoogian Mansion.
Con:
Save for that stripper that knew a little too much...