At Mlive today, Killer Kowalski writes one of his occasional controversial opinion pieces about the Lions. He claims there's a storm brewing that will hit the Lions next season, in regard to the long term status of pro bowl wide out Roy Williams, and number one running back Kevin Jones...


Williams and Jones, who were both first-round draft picks in 2004, will become unrestricted free agents after next season and sources close to the players say they've had enough and want out.
My first thought after reading the Killer's article?
DUH!
Who wouldn't want to bail on this sinking ship? If they actually wanted to stay, I'd question their sanity.
My second thought?
Sounds like a smart plan to me. Who could blame them for wanting to leave that dysfunctional organization in their rear view? I'll wish them the best when they join their new teams.
With the word that two conerstone Lions are unhappy, all I have is questions regarding the Lions, but no answers.
Is this going to be the future of the Lions, their best players jumping ship at the first opportunity? Overpaying players by a VAST amount being to only way to keep their own free agents or lure players to Detroit? Would giving the ziggy to Mike Martz improve the relationship with the pissed off Jones and Williams? What about shitcanning Millen and/or Marinelli? Will things ever change on the Lions? Will they ever be able to change the culture of losing?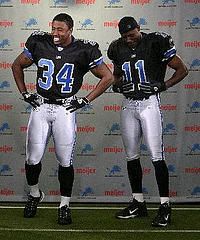 We'll never see Kevin Jones and Roy Williams this happy ever again.
Till the day they leave Detroit, that is...


Hell, I'm just deluding myself. I already know the answers.
Nothing will ever change. Good players will continue leave as free agents, force a trade, or their release. The Lions will continue to overpay average players, at best, to take their place. The Lions will luck out occasionally and draft a few good players, who will then want to leave after being exposed to a few seasons of Lions dysfunction. Then the vicious circle will begin again.
The same vicious circle of dysfunction will continue with the coaching staff and from office as well.
William Clay Ford will remain oblivious. Millen is not getting fired, though he deserves it. Neither will Marinelli, though the team is going through a late season collapse of epic proportions. Martz will not come back, but it'll be too late to salvage relationships. To help save his job, Marinelli will broom a few assistant coaches, for appearances sake.
There will be the hiring of a new offensive coordinator, who will need at least two seasons to get up to speed, in teaching the offense and in a futile attempt to find the appropriate players to run it. But Marinelli will get the ziggy, and the Lions will totally clean house with the coaching staff, and start all over
AGAIN
. With the odds being excellent that Millen will remain in charge of the hiring, with the front office staying basically the same.
Thus the vicious circle will be complete, and start all over again with a new cast of characters. We saw the same scenario with Moronweg and Mooch, and it's not about to change now.
Obviously Williams and Jones can see the sad saga I just wove is already written on the wall. They have seen the light, and not even a come to Jesus meeting with Jon Kitna will change their minds.
No wonder they are counting the days to free agency.