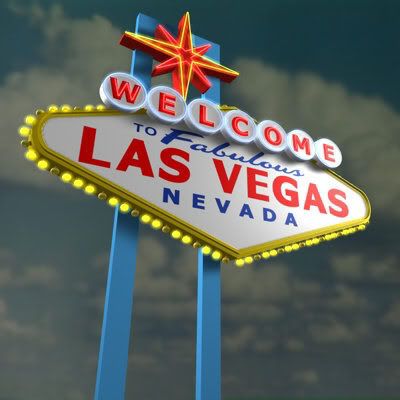 I apologize for the lack of posts the last day or so, as real life has gotten in the way.

I just wanted to warn you few diehards that visit TWFE on a regular basis that posting will soon stop for a few days. You'll be going cold turkey (To be honest, so will I), as The Wayne Fontes Experience will be on hiatus from Thursday 12/20, through Sunday 12/23. But it's for a very good reason...

I'm leaving the D tomorrow morning for a long weekend, and heading to one of my favorite cites in the entire known universe, Las Vegas! I know the holidays are right around the corner, but who's going to turn down a trip to Vegas? Anyone? Didn't think so.

I'll be staying at the parent's time share on the (Far south end of the) strip, and expect hope to be liquored up the vast majority of the time. I'll have internet and email access through my trusty Sprint Ambassador approved Samsung phone, so I can check/answer email, upload any pictures to TWFE I may take while in a drunken haze, post beer fueled rants to my Twitter feed (It's on the right sidebar), check comments and the like.

Sorry to say that there will be no live blogging of the latest Li0ns loss this Sunday. Considering my state of mind during those games, that's probably for the best...

I'm damn curious to see how the city has changed. It's been several years since I've last been to Vegas, which was for the weekend of the Rams - Titans Super Bowl. That weekend was a total blur, as I attempted, with the help of my brother-in-law, to drink Vegas dry of Corona. We came damn close to succeeding.

As for gambling on that trip, the night before the Super Bowl I won fairly big playing blackjack at what was then known as the Union Plaza. I would have done even better, but one of my BIL's friends managed to drink himself into a stupor at the table, and passed out. As everyone else in our party had already headed to a club, it was up to me to either let him get thrown out of the casino by security, or cash out and get him back to the hotel myself. Despite being on one the best winning streaks I'd ever experienced. I did the responsible thing, and cashed out.

His inability to handle liquor ended up costing me a fortune in cab fare. I had to take him back to where we were staying (A time share at the Flamingo Hilton), get the stumbling drunk to his room safely, and then hop back into the cab to meet up with everyone else at the club. Thinking back on it, I should have let security toss his drunk candy ass onto Fremont St.

As for the Super Bowl XXXIV, we caught the game at a movie theater sized screen at the Circus Circus, as the BIL had a friend working there who could set us up. I somehow managed to pull off a win on the game, along with a parlay on Super Bowl prop bets. It was a great day, as I got quite a shine on while making a nice chunk of change in the process. I should hope to be so lucky on this trip, as I'll be on a much stricter budget.

Hey, if anyone has inside information/knows the fix is in/has a sure thing for me to bet on this coming weekend, I'm more than willing to listen. And no, "Always bet on black" isn't a tip, though Wesley Snipes did offer it as such in that 90's classic flop, "Passenger 57."

As I need to freshen up on my blackjack basic strategy, research where the best low limit table games are now located, and pack, odds are good this will be my last full post till I come back late Sunday night. As I'm not yet sure on my Christmas plans, posting may be infrequent when I come home as well. I'm just going to play it by ear.

Feel free to check back over the next 4 days to see if I get anything up on TWFE during the trip. Be it pics, Twitter updates, or even a quickie past, you never know...

Remember, I need a SURE THING at the sports book! A little help, please?

As always, I appreciate your patronage. Thanks for reading!