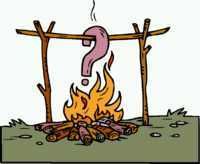 With Christmas almost upon us, that means the NFL regular season is almost over. It also means that, once again, the Lions are playing out the string.

Even though the games mean next to nothing, we still have to do our due diligence, and answer the latest batch of burning questions. from the Detroit News' Mike O'Hara.

It's Christmas Eve, so make yourself comfortable. Let's curl up next to the Yule log, grab a cup of eggnog, and answer us some fiery queries!

Burning questions from the Lions' 25-20 victory over the Chiefs at Ford Field on Sunday:

Q: The Lions ended their six-game losing streak. Should they rejoice?

O'Hara: No. Winning is always better than losing, and they should be happy that they won a game -- even against one of the NFL's worst teams. They deserve to feel good, to a point, but there is something about the game that should haunt the Lions for a long time.

Big Al: Rejoice over struggling to win an absolutely meaningless game against the NFL's worst team after pissing away a shot at the playoffs thanks to an ugly 6 game losing streak? Hell, no.

But knowing the Lions, they are probably feeling pretty damn good about themselves. Beating the Chiefs is nothing to get excited about. Unfortunately, the Lions are happy with their performance against the Chiefs, thinking the 6 game losing streak is behind them. In all actuality, the losing streak actually defined their season, and them as a team. Defined them as losers, the same old Lions.

Q: What's the problem?

O'Hara: They were eliminated from the playoffs last week when they barely showed up in San Diego and lost 51-14.

With the pressure off against the Chiefs, they came through with enough plays to win a game.

That's the problem. For six straight weeks, when they were under pressure to win, they couldn't come through. They weren't even competitive in blowout losses on the road to the Vikings and Chargers. They lost crucial games at home to the Giants and Packers.

But with nothing at stake in the standings, they buckled down on defense in the second half and won.

Big Al: First off, they struggled to beat the Chiefs, an awful team that is decimated with injuries, and no QB. Even with the pressure now gone, the Lions couldn't put together a respectable performance, just one that was just good enough to beat a bottom feeder.

When the pressure was on, when they HAD to win a game to stay in the playoff hunt, the Lions instead lost 6 STRAIGHT GAMES! Most of those games were over by halftime. That's as un-clutch as a team can be. That's a team with major personnel issues. That's a team in need of big changes. That's a team called the Detroit Lions.

A single victory to make their record a dismal 1-6 in the season's second half doesn't mean a damn thing.

Q: Shaun Rogers had two sacks after being shut out for six games. Was this his salary drive?

O'Hara: It sure wasn't his celery drive. He is too heavy -- somewhere in the range of 370 pounds -- to be effective for a full season. There were times Sunday when he dominated, but he should have done that more often.

After his second sack, Rogers made his "Superman" motion -- pretending to tear his coat off and show the Superman shirt.

The Lions needed him during the losing streak. He didn't have to be Superman. Spider-Man would have been enough. Instead, he was Casper the Friendly Ghost -- invisible.

Big Al: Rogers' season was a reflection of the Lions. Big Baby, just like his team, played well early on, did absolutely nothing when needed most, then reappeared when there was nothing left to play for but a little pride. Where was that pride during the past 6 weeks? He probably left it in the refrigerator, next to a half eaten cheesecake and leftover pizza.

Shaun Rogers, once again, same as every other season, disappeared for not just plays, or series, but entire games at a time. I think it's time we accept that Rogers is overweight and overrated, while under performing and under conditioned. There's no reason to think he will ever change. Shaun Rogers should be done as a Lion after next week..

Q: T.J. Duckett had a good game as the replacement for Kevin Jones, who went out with a knee injury late in the first half. Duckett rushed for 102 yards and a touchdown. Was that a surprise?

O'Hara: It shouldn't have been. Duckett missed four games early in the season with an ankle injury.

But since then, his lack of playing time has been one of the mysteries of the season. He had two games with one carry, one with none and another with three.

That doesn't make any sense.

Big Al: Surprise? Hell, I didn't even remember that Duckett was on the team!

OK, I'm being somewhat facetious, but not by much. The non-use of Duckett is just another in a very long line of odd, bizarre, and just plain bad use of offensive personnel by Mike Martz. From making Shaun McDonald the featured receiver over Calvin Johnson, to allowing Avieon Cason on the field, let alone to actually take snaps, Martz used players and called plays with little rhyme or reason.

His tenure as offensive coordinator featured many things, but sense wasn't one of them. I think we can say with confidence that the Mike Martz experiment was a complete and utter failure.

Q: Jon Kitna didn't have a good game -- nine completions, 16 attempts and 115 yards. What was the problem there?

O'Hara: What nobody knows for sure is what Mike Martz, the offensive coordinator, is telling him. For some reason, the game plan got fixated on throwing to Shaun McDonald. He's 5-foot-8 and was double-covered on an interception in the first half.

Calvin Johnson, the 6-5 rookie, had two catches. Both were in the first half. Another throw to him was batted down, and Kitna threw low and behind him on a third-down play in the fourth quarter.

Also in the fourth quarter, Johnson made a leaping catch over Ty Law on a long pass down the sideline.

Johnson was barely out of bounds, so it wasn't complete, but it was a sign of what he can do -- when he gets more chances.

Big Al: The Hell if I know. The Lions offense is such a confused clusterfuck right now, the next coming of Bill Walsh, Don Coryell, and Knute Rockne combined couldn't figure out what's wrong. As we've found out that Martz isn't quite the genius that he made himself out to be, it's obvious that he doesn't have the answer either.

For a team with several weapons on offense, and the mastermind of "The Greatest Show on Turf" calling the plays, you'd think that the Lions offense would be one of the best in the NFL. Well, you'd think wrong. Turns out both the supposed weapons, and Martz himself, were highly overrated.

Q: There were a few thousand no-shows in the stadium. The fans that turned out booed on a few bad plays but were mostly supportive to the end. What does that say?

O'Hara: It means there is passion and support for a football team that hasn't given enough back to the fans. They've given them six straight years of sellouts at Ford Field. It's time to pay them back.

Big Al: What does that say? It says the following...


We love the NFL, even if we are in midst of a love/tolerate/hate/despise relationship with the Lions.
Going to an NFL game is an 8 time a year event, so fans go to the games even though they realize that the product on the field is inferior.
Fans bought their tickets early in the season, when all looked rosy for the Lions, and didn't want to waste their hard earned money by not going.
It's Christmas weekend, with many fans having the next couple of days off, so they went to party their drunken holiday asses off at Ford Field.
We're dumb asses for supporting such an awful organization by filling Ford Field.
We're also insane.
We're suckers as well.
We've also given them more than 6 years of Ford field sellouts. There's a quarter century of filling the spacious Silverdome, and another 20 years of filling Tiger Stadium. Since their last NFL title in 1957, what have we gotten in return? One playoff win in 50 years. One lousy playoff win. One.
The God damn Lions will never pay us back...