I took quite a bit of glee is watching Michigan destroy Notre Dame last season. Then again, beating Notre Dame anytime before this season could be considered an accomplishment. Unfortunately, beating them in in 2007 is nothing to crow about, as the Fighting Irish look totally inept.

This is no "Cripple fight," as the Wolverines are delivering an ass kicking.

As I watch the Wolverines systematically dismantle the Golden Domers, I'm not taking a Hell of a lot of joy from what is going to be a big Michigan win. This game hasn't been all that much fun to watch. It's sad to see a team with just as much history as Michigan look so...so...Indiana-like. It's sad, even when it's a team you love to hate, as I do the Irish.

This year's Wolverines are not that good of a team, at least by Michigan standards, and possibly by any standard. Coming into this game, the Wolverines were a team back on it's heels, reeling from 2 embarrassing losses. They are being lead by a first year freshman QB, Ryan Mallett, making his first start.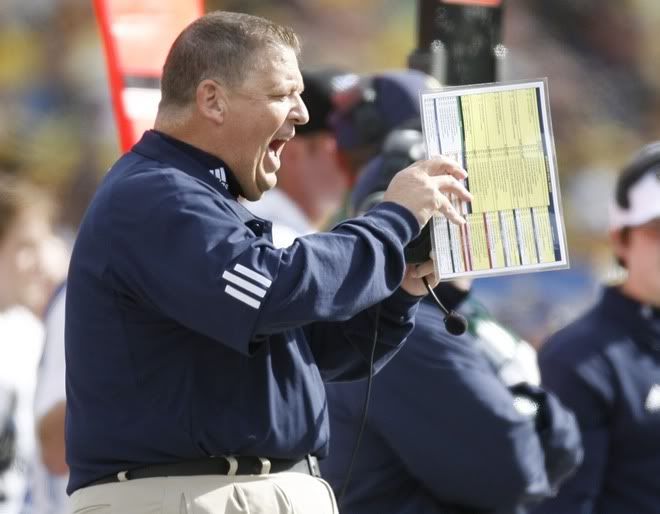 Charlie Weis eats when he's stressed. Even play calling cheat sheets.
What's not shown is Weis swallowing Jimmy Clawsen whole after his last turnover...
Yet, against Notre Dame, the Wolverines look like world beaters. They are blowing the Irish off the field, dominating in every possible facet of the game. Michigan is much better on both sides of the ball, and more surprisingly, even on special teams, which is almost always a Michigan weak point. I think that domination says more about how lousy the Irish are, than how "Good" the Wolverines might be.
It's now late the 3rd game of their season (I'm writing this with about 5 minutes left in the game), and the Irish still haven't scored an offensive TD. That's hard to do on purpose, let alone legitimately. I'd be shocked. stunned and flabbergasted if Notre Dame has an above .500 record. That's one bad team I've watched today.
But as nice as it is to watch Michigan finally win a game, in the back of my head I'm wondering if the Wolverines are a couple of years behind Notre Dame's curve, and we'll see something similar happen to them. It's happened to most of college football royalty, Oklahoma, Nebraska, USC, Alabama, and as we witnessed to today, Notre Dame, to name just a few.
The Big 10 is so bad this year, if the Wolverines play as they did against the Irish, they'll win 9 or 10 games, though it would be a mirage. If Michigan fans and alumni were to think otherwise, they would be deluding themselves. Winning 1 game against a horrifically inept team team doesn't prove anything, other than the Wolverines may be a better team than they showed in their first 2 games.
In the big scheme of things, today's Michigan win means nothing. (It's now official, the Wolverines win a 38-0 shellacking) It doesn't make the shame of embarrassing losses to Appalachian St and Oregon go away.
Though the win, and the manner it came about, does have me wondering one thing.
What I'm wondering is this... If Michigan doesn't tread carefully, and make the right decisions as to the direction of the football program, if what we saw from Notre Dame today is what we'll see from the Wolverines 2-3 seasons from now. then we will see a true "Cripple fight."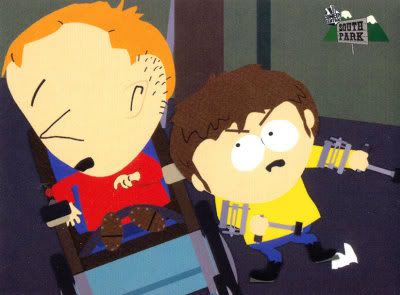 There was no true "Cripple fight" this year, as Michigan took care of business.
But don't be surprised if "Cripple fight!" does become the rallying cry
when these 2 teams meet for the next several seasons.
Michigan is not immune from mediocrity, or worse, because they are
"Michigan."
If anything, the University of Michigan powers that be should to learn from the fiasco that is now Notre Dame football, and not let it happen in Ann Arbor.
Considering the level hubris we normally see coming out of U of M, and Schembechler Hall, I'm worried that the lessons that could be learned from the mistakes made in South Bend will be ignored.
If that turns out to be true, then we'll see the Wolverines join the Irish as a team that is a football power in name only.