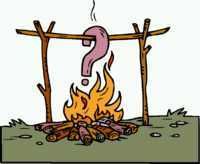 The Lions are 2-0, and the talk of Detroit, if not the nation. Despite their being undefeated, no one is sure if the Lions are for real. So questions are raised, and need answering. As is the norm, Detroit News columnist Terry Foster dishes out the "Burning questions" on the weekend, and I attempt to make sense of them.

This week, Foster fires from the hip, answering questions in regard to what Mike Martz may have up his tricky sleeve, the Lions running game, or more correctly, the lack thereof, black QB's under pressure, and Roy Williams' mouth. On with the inquisition!
Burning questions as the Lions put their 2-0 record on the line at Philadelphia: Q: The Lions surprised Minnesota by running a no-huddle spread offense. Can we expect the same against Philadelphia?

Foster: Maybe. But it would not surprise me if the Lions' offense gave the Eagles a different look. In fact, expect it. Detroit's players and coaches say they can give opponents a variety of looks.

Offensive coordinator Mike Martz wants to keep defenses guessing. This is one reason Martz crams so much information into his players. He wants them to be prepared for anything.

The Eagles' secondary is beat up, and it's Football 101 to attack a team's weakness. If the Lions go no-huddle, it means they'll be facing a beaten up defense that won't be able to rest much.

Big Al: Your guess is as good as mine as to what we might expect out of Mike Martz's offense. For all I know, the crazy super genius could come out of the tunnel and scream, "The no-huddle is nothing! Stop this, you sum bitches! What about the wing-T? Wishbone? Veer? Spread? Single wing? Run and shoot? Try and stop me!!! BWAHAHA!"

Well, I'm overstating things just a trifle. But you know Martz will come out with some wrinkle the Eagles haven't seen yet seen, and may not expect. When it comes right down to it though, the Lions strength is in their wide receivers, which they have both in quantity, and quality.
So you know the Lions are going to throw the ball, and throw it a ton.

Martz will have something up his sleeve tomorrow. All I can say is that his offense has been highly entertaining, and becoming more and more productive. The Lions are going to score points, probably a lot of them. No matter what team is on the other side of the ball.

Q: The Lions didn't try to run the ball much against Minnesota. Don't you have to establish the run to win?

Foster: So far that has not been the case. If you toss aside quarterback scrambles, the Lions only ran 16 times against the Vikings. Starting tailback Tatum Bell was not thrilled, but said he will remain patient and try to stay within the game plan.

The Lions probably will run a little more against the Eagles, mostly because they want to give their third opponent a new look.

The Lions say they will be able to run the ball more effectively this season because the offensive line is better. I'm not convinced of that, and that's why they need Kevin Jones back in the lineup.

Big Al: I've said this several times already this season, and I'll say it again. You can't use what don't have. The Lions don't have a running game. Not in the traditional sense, anyway.

There's no running game for several reasons. Their best running back is still recovering from his severe foot injury. From what we've seen in the 1st two games, the O-line is vastly better at pass blocking, than run blocking. The wide receivers, as a unit, may be the best in the entire NFL, so you are more likely to use them, than your running backs. Mike Martz 's offensive philosophy is pass first, run never.

It's hard to win in the NFL without a running game. Truthfully, it's hard for any 1 dimensional team to win in the NFL. But to say you need the run to set up the pass is antiquated thinking.

The Lions have won 2 games so far being a pass first team. Actually, for all intents and purposes, they've been a pass only team. I don't see that changing anytime soon, so we'll see if the Lions can continue to win while defying that old school, conventional thinking about needing the running game to win.

Keep one thing in mind. If there is a coach in the NFL that can turn conventional thinking on it's ear, it's Mike Martz, super genius.

Q: What can we expect of Jones this week?

Foster: Not much. The Lions say he will take 15 snaps, and the way Martz is running the offense, that could mean a whopping one or two carries.

The Lions must bring him back slowly, and they seem to be doing that by limiting his practice time.

The foot is a concern, but the main thing is Jones is not in football shape yet. You do not want to run the risk of having a tired running back fumble or miss an assignment.

Jones says his foot is sore sometimes when he wakes up in the morning, but the man is still hanging in there. It's one day at a time, one step at a time, and we probably won't see Jones at 100 percent until next season.

Big Al: I'm not expecting much out of Jones. As Foster says, he's not in "Football shape." I'd be surprised if he even carries the ball. I'm thinking he may be used in passing situations. But in Martz's pass insane offense, every down is a passing situation.

I'll put it this way. Who would you rather have as the 3rd down back? Brian Calhoun, or Kevin Jones? If they think Jones is healthy enough to play 15 snaps, but not healthy enough for full time duty, then why not use him in situations where he can get the ball in space, not having to worry so much about contact?

It almost certain that Jones will play sooner than later, even if he's not going to be 100% anytime this season. I'm quite curious to see how he gets used against the Eagles.

Q: What quarterback is under the most pressure in the NFL?

Foster: It's Donovan McNabb, and there isn't a close second-place QB. He is injured, his star running back, Brian Westbook, is banged up, and the Eagles don't want to go 0-3. < style="font-style: italic;">Plus he has the added scrutiny this week of the fallout from the comments on race he made during the HBO interview.

All eyes are on McNabb. How does he handle it? I believe he fails. This is too much of a burden for him to overcome.

Big Al: QB is the most pressure packed position in all of sports. Just ask Joey Harrington. He's said as much in Detroit, Miami, and now Atlanta.

Now take the pressure Joey Blue Skies has felt in those cities, then turn that pressure up a several points on Donovan McNabb in Philadelphia. We all know how notorious the fans are in Philly. The take no prisoners Philly fans booed Santa Claus and Mike Schmidt, for Christ's sake. Just playing in Philly is pressure enough.

Then add his controversial quotes about black QB's facing more intense scrutiny than their white counterparts on top of that. Then add the fact that that the Eagles, who were favored to make the playoff before the season, have started 0-2, looking quite bad in the process. Don't forget that the Eagles drafted McNabb's odds on replacement, Kevin Kolb, in this past draft. The whispers are already starting in Philly as to when in this season Kolb will start a game.

Losing to the long downtrodden Lions would exacerbate McNabb's already shaky status, accelerating his downward slide in the eyes of Philadelphia fans. A few more bad games, and the Eagles may move McNabb out from under center, and for that matter, out of Philadelphia at the end of the season.

So yeah, I'd think it's safe to say that McNabb is the QB with the most pressure upon him in the NFL.

Q: Did you hear that Roy Williams said Calvin Johnson could have had 200 yards receiving against the Vikings?

Foster: Yeah, I heard it. Let me steal a line from our friend in the media, Tigers reliever Todd Jones: Take with a grain of salt.

Williams is young and enthusiastic and loves to hear himself talk. He was simply trying to pump up a teammate.

The funny thing, Williams told me last week that Johnson isn't comfortable with the offense yet, and he can't wait to see him play in it next season.

Big Al: Roy Williams says a lot of things. Often without thinking about the consequences. Often without thinking, period. Remember the "We're close to scoring 40 points a game" quote last season? Uh...Yeah, Roy. Whatever...

I will admit that his quote about trying to get out of bounds in order to keep keep his face pretty after having his helmet ripped off during the Vikings game was pretty damn funny...

Honestly, I don't make much of this sort of thing. It's not a big deal. Locker room quotes are overrated, anyway. I'd prefer it if Roy just caught the God damn ball, and let the rest take care of itself. But all the talk is just Roy being Roy. If Williams needs to pull quotes out his ass to keep himself fired up enough to continue playing at a pro bowl level, then yack away!